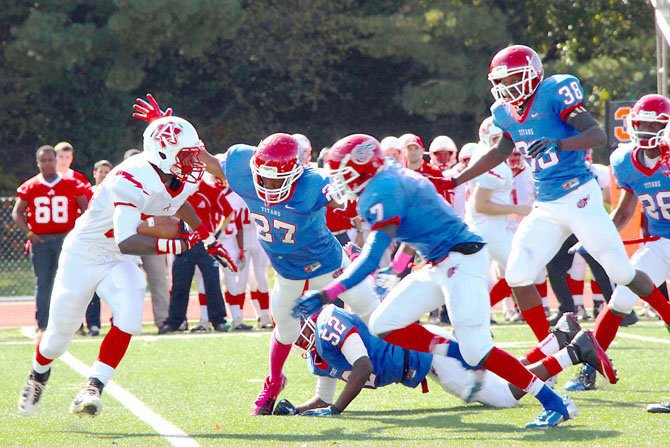 KyReem Walton spent three seasons on the T.C. Williams varsity football team. As a defensive end and outside linebacker, Walton was part of an improving defensive unit that played well in 2013, helping the Titans finish the regular season with a 7-3 record and reach the postseason for the first time since 1990.
The 5-foot-11, 190-pound Walton recently graduated from T.C. Williams and will continue his football career at Fork Union Military Academy. Walton, a self-proclaimed "video game freak," recently participated in a Q and A via email with the Gazette Packet.
*Gazette Packet: What made Fork Union Military Academy the right fit for you?
Walton: I'd have to say the program they have. Also it's in Virginia. It's a great postgraduate program. They produce NFL players as well as send every player Division I, turn young men into mature men, give discipline and limit your free time to focus on your main goals --- school, football and training.

*Gazette Packet: What is your major?
Walton: I plan on majoring in business management, as well as psychology.
*Gazette Packet: At what age did you start playing football? When did you realize playing college football was a possibility for you?
Walton: I started at age 8. I had realized [college football] was a possibility when I had made my first tackle. I instantly fell in love with the game and on top of that my coaches at the time loved my game. I just went from there.
*Gazette Packet: What was it like to be part of the team that snapped T.C. Williams' 22-year playoff drought?
Walton: It was a great feeling, one which I will never forget. It was one of our goals as a senior class. To be congratulated by those who came before me is humbling. To see the city actually come together through our ups and downs as a team and stick with us through it all actually is a blessing to be a part of. We worked hard for it. Hopefully the younger guys can push further than what we accomplished as well as the teams years down the road.
*Gazette Packet: What is your favorite memory of playing high school football?
Walton: I would have to say the best memory is when we found out we weren't going to playoffs [in 2012] the morning after we beat West Po in overtime [in the regular season finale]. I say that because it was emotional, nothing but silence. In my head, as well as my teammates', we thought about the future. We came together, put all of our egos and pride aside and worked our butts off. We grew that day. We turned ourselves into a team and felt good about it because we had one year left to turn this program around for the first time. Second memory would be beating Oakton 38-2 [in the 2013 opener] when everybody, I mean everybody, doubted us.
*Gazette Packet: Better feeling: Sacking the quarterback or recovering a fumble?
Walton: Recovering the fumble. We have either a chance to rest until the offense scores or we score off the fumble.
*Gazette Packet: If you could go back and change one thing about your high school athletic career, what would it be?
Walton: It would be positions. I should have focused on DB a lot!
*Gazette Packet: What are you most looking forward to about the transition from high school to college?
Walton: A chance to put myself and my family in the spotlight. Show the world my story and inspire people to never give up in any situation.
*Gazette Packet: Who is your favorite music artist? Why?
Walton: Young Scooter. He makes a lot of music that I can relate to as a child growing up. The beats are crazy!
*Gazette Packet: What is your favorite movie? Why?
Walton: 'Friday.' That movie is hilarious and Nia Long is so beautiful in that movie.
*Gazette Packet: What is your favorite hobby outside of football?
Walton: Playing Call of Duty, Gears of War 3 and many other video games. I am a video game freak.
*Gazette Packet: What location is the farthest you have traveled from the Washington, D.C. metro area?
Walton: Panama City, Fla.
*Gazette Packet: Did you follow the World Cup? If so, for which team(s) did you cheer?
Walton: I cheered hard for Brazil.