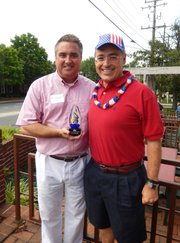 City of Fairfax Mayor Scott Silverthorne capped off his Fourth of July by enjoying the fireworks at Fairfax High. But he began his day by receiving an award from GMU. It was presented by GMU President Angel Cabrera during a Central Fairfax Chamber of Commerce breakfast reception at Red, Hot & Blue before the City's Independence Day parade.
The John C. "Jack" Wood Award for Town Gown Relations is a university-wide award program recognizing people and businesses that foster and demonstrate leadership in cultivating the relationship between the university and the greater surrounding community. He was the first mayor of the City of Fairfax, from 1953-1964, and purchased the land for GMU.
Wood was the driving force responsible for the campus being located on land adjacent to the City and deeded to GMU. That began the Town Gown relationship between Fairfax and the university, plus an award presentation in five categories, including "elected official," which Silverthorne received.
He was honored for being instrumental in developing a culture of collaboration between the City of Fairfax and GMU. According to Cabrera, Silverthorne's leadership has provided the opportunity to enhance town-gown relations and "has laid a stronger foundation for future initiatives."
"I've been amazed at the work he's done to further the relationship between the City and university," said Cabrera. He then listed several examples, including the Mason road decals and the way Fairfax formally welcomes new GMU students.
Silverthorne than thanked him for the award and said he couldn't have done what he did without the help of his colleagues on the City Council.