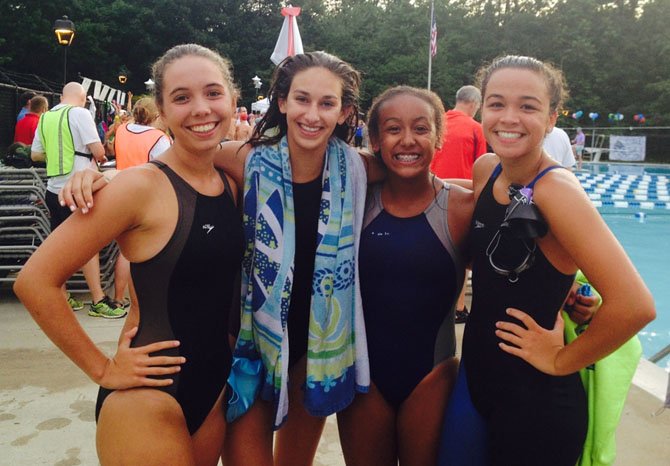 Relay Team Breaks Sully Station II Record
The Sully Station II Piranhas had an eventful week of fast swims and family fun. The thrills began on Wednesday, July 9, with the Divisional Relay Carnival, where the team's cheerfulness and camaraderie was once again on display. The atmosphere was electric, resulting in the first team record of the season.
The 13-14 girls broke last year's 200 medley relay record with the powerful combination of Lauren Peters, Georgia Stamper, Hope Alston, and Karenna Hall. With a scorching time of 2:17.34, the girls earned a spot in next week's All-Star Relays. Joining them at All-Stars will be 11-12 girls Delaney Kennedy, Daeun Lee, Taylor Smith and Faith Alston, who tore up the pool in the 100 freestyle relay.
Several other squads had strong showings at the Carnival, including a first-place finish by the mixed age girls' relay of Faith Alston, Angela Cai, Karenna Hall, and Madisyn Graham, and two second-place finishes by 9-10 girls Maddie Stalfort, Angela Cai, Caroline Li and Dorothy Cervarich.
Three days later, the Piranhas took their talent to the Mantua pool where the 11-12 girls enjoyed another dominant performance. The girls captured wins in all four individual events on the shoulders of Faith Alston in free (31.04) and backstroke (38.77) and Taylor Smith in breaststroke (42.00) and fly (37.09). They were joined in victory by double-event winners Angela Cai in free (37.00) and breaststroke (46.44) and Madisyn Graham in free (30.57) and fly (33.07).
Single-event victories were claimed by Harmon Saint Germain in free (29.38), backstrokers Brantley Cervarich (39.59) and Maddie Stalfort (47.01), breaststrokers Harrison Saint Germain (51.21) and Flynn Crisci (37.73), and fly standouts Aidan Crisci (37.92) and Dorothy Cervarich (20.25). Solid second place finishes were turned in by Ben Wu, Caroline Li, Karenna Hall, Kellen Campbell, Austen Bundy, Caitlin Campbell, Colin Crisci, Georgia Stamper, and Michael Jiang.
The week culminated on Saturday, July 12, in one of the most anticipated traditions of the season: Family Fun Night. Swimmers and parents alike enjoyed pool games, crazy relays and the annual belly flop contest. The crowd went wild as several dads created terrific splashes, including Eric Stalfort, Matt Cervarich, Pat Morris, Shah Alston, and reigning champion Scott Bundy. Even SS2 lifeguard Duson got into the act with quite a doozy.
SS2 will bring their competitive drive and joyful spirit to Crosspointe for their last A meet of the season next Saturday, July 19.
Virginia Run Claims Two Victories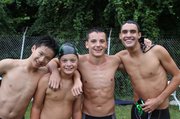 The Virginia Run Riptide claimed two victories during this fourth week of the NVSL summer swim season with a win at Wednesday's Divisional Relay Carnival and a convincing win of 279-140 over Popular Heights at Saturday's home A meet.
Not only did the Riptide bring home the Division 6 relay trophy, but they sent eight teams to the NVSL All-Star Relays on July 16. Three relay teams set new Riptide records at the Relay Carnival. The boys' 200M freestyle mixed-age team of Anthony Arcomona (11-12), Jason Cheifetz (9-10), Geoffrey Eisenhart (13-14), and Joey Castro (15-18) broke a seven-year-old record with a swim of 1:57.46.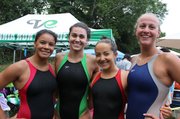 The 15-18 girls' team of Chloe Hicks, Skyla Davidson, Mia Newkirk and Serena Emanuel broke their own 200 medley record with 2:07.24 and shattered the six-year-old 200 free relay record with a 1:54.71. Five additional teams will represent the Riptide at All-Stars: girls' 18U mixed-age free relay of Chelsea Nguyen, Maddie Whitton, Didi Pace and Chloe Hicks; boys' 11-12 100 medley relay of Anthony Tonthat, William Beamon, Anthony Arcomona and Noah Schettini; boys' 13-14 200 medley relay of Geoffrey Eisenhart, Leo Wang, Thomas Beamon and Jordan Banzon; boys' 8U 100 free relay of William Whitton, Davis Collinsworth, Jack Kelly and Charles Beamon, and girls' 13-14 200 free relay of Sarah Boyle, Lauren Stovall, Chanel Cogan and Didi Pace.
Still undefeated, the Riptide hosted their first home meet of the season last Saturday and saw 49 swimmers posting 60 personal best times. Three team records were set by Olivia Masterson (11-12 breast) at 38.31, Leo Wang (13-14 breast) at 32.62, and Anthony Arcomona (11-12 fly) at 31.06.
The freestylers started strong with three race sweeps by the Riptide boys. Charles Beamon took first, Davis Collinsworth second and Jack Kelly third for the 8 & Unders; Jason Cheifetz took first, Michael Hart second and Owen Thomas third for the 9-10s, and Geffrey Eisenhart claimed first, Jordon Banzon second and Charlie Gunn third for the 13-14s. Three girls won their races: Neha Srinivasan (8U), Did Pace (13-14) and Chloe Hicks (15-18). Five swimmers captured second place: Natalie Orwat (8U), Maddie Whitton (9-10), Noah Schettini (11-12), Chelsea Nguyen (11-12) and Lauren Stovall (13-14).
With a comfortable 58-32 lead, the Riptide backstrokers pushed off. Seven of the events were won by the Tide: William Whitton (8U), Ella Thomas (8U), William Beamon (11-12), Chelsea Nguyen (11-12), Geoffrey Eisenhart (13-14), Lauren Stovall (13-14), and Chloe Hicks (15-18). Six swimmers claimed second place: Logan Dahm (8U), Natalie Orwat (8U), Andrew Boyle (9-10), Caitlin Kelliher (9-10), Anthony Tonthat (11-12), and Chanel Cogan (13-14). Three swimmers won thirds: Charlie Gunn (13-14), Joey Castro (15-18), and Maggie Blondin (15-18).
When the breaststrokers started their events the Riptide lead had expanded to 104-66. The 8U boys swept their race with Griffin Osterhout in first, William Whitton in second, and Logan Dahm in third. The 9-10 boys followed with their own sweep: Michael Hart won first, Connor Gary second, and Tommy Vu third. The next six races were won by Virginia Run swimmers: Anthony Arcomona (11-12), Olivia Masterson (11-12), Thomas Beamon (13-14), Sarah Boyle (13-14), Leo Wang (15-18), and Mia Newkirk (15-18). Gabriela Borsato (9-10) swam for second with a new personal best, while third-place swims were achieved by Laney Zimmerman (8U), Jack Liskey (11-12), Joel Cheifetz (13-14), Abby Borsato (13-14), Andrew Meredith (15-18) and Skyla Davidson (15-18).
The Riptide butterfly squad won nine of 10 races. A three-way tie for first for the 9-10 boys was an improbable occurrence as three swimmers (and three sets of timers) recorded identical 20.05 times, with Andrew Boyle and Jason Cheifetz of the Riptide and Dan Kinsella of Poplar Heights sharing the win. Neha Srinivasan was all alone winning the 8U fly by four seconds with a new personal best 22.75. Maddie Whitton (9-10), Anthony Arcomona (11-12), Olivia Masterson (11-12), Leo Wang (13-14), Didi Pace (13-14), Joey Castro (15-18), and Mia Newkirk (15-18) all followed with first-place finishes. Jack Kelly (8U), William Beamon (11-12), and Sarah Boyle (13-14) secured seconds, while Chanel Cogan(13-14), Andrew Meredith (15-18), and Allison Meredith (15-18) swam for thirds.
Enjoying the benefit of swimming at home for the first time this year, a dominant performance was the order of the day for the Riptide relay teams as 10 of 12 races were won by Virginia Run.