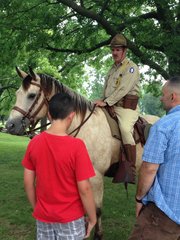 The sounds of explosions and gunfire became almost commonplace on July 12 and 13, as Sully Historic Site celebrated its 9th annual World War II Living History event. At the event, visitors witnessed a view of the war through reenactments.
At Sully Historic Site, several such major events are held each year and each is planned "for anywhere from four to 12 months," said Barbara Ziman, events coordinator. Sully Historic Site showcases facets of Fairfax County history from the 19th century through the mid-20th century. Richard Bland Lee, General Robert E. Lee's uncle, completed the main house at Sully in 1799.
Much attention was also given to historical accuracy when planning the event: "as a historic site, we don't want to have just anybody coming to do events for us because they are perceived as representing the park authority ... it is an event that is by invitation only," said Ziman.
Representing the 511 Pathfinders, Matthew Wallin was one of those invited to be a part of the event. The 511 Pathfinders "would've been the first paratroopers on the ground. There were over 10,000 paratroopers dropped on D-day," said Wallin.
On display near Wallin were the various types of equipment a paratrooper would've carried on D-day. Most of the equipment were originals, but some were reproductions as "some original stuff is very, very difficult to get."
There were other units in attendance, and Robert Ibay, a self-proclaimed lover of military history, said that the "uniforms and soldiers' equipment were very accurate and informational."
The highlight of the weekend was the large skirmish towards the end of each day. It was "thrilling to see the skirmishes," said Ibay.
Each battle was "not a reenactment of any specific battle, but more a demonstration of tactics that two opposing sides would use if they came upon each other," said Ziman.
Ziman and volunteer reenactor coordinator Kelly Roder handled crowd control during the reenactments to ensure safety.
Strict safety guidelines were enforced throughout the weekend to protect reenactors and visitors. Every unit had a safety officer and there was a weapons inspection at the beginning of each day to ensure that there were no live rounds, said Ziman.
Kathleen Kinsolving Willmann, a teacher at Centreville High School, and several other local authors were also in attendance selling copies of their World War II-related books.
Call 703-437-1794 or visit http://www.fairfaxcounty.gov/parks/sully-historic-site/ for more information on Sully Historic Site and its future events.