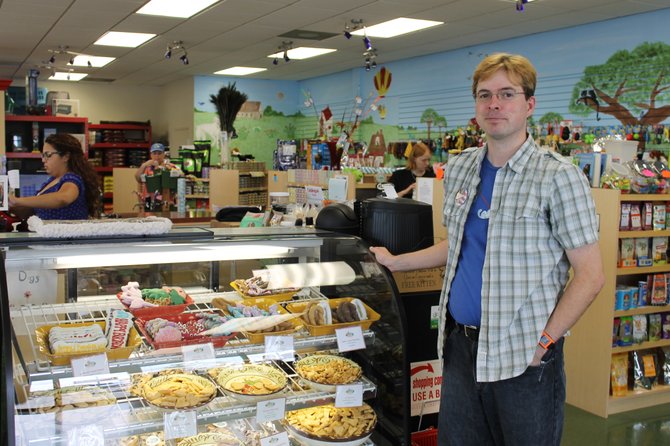 Nikki Logan and Matt O'Leary, employees of Felix & Oscar, a natural pet food store in Springfield, admit that their pets probably eat better than they do sometimes.
"With all of the processed and artificial stuff that's in fast food, I would definitely say yes," Logan said.
But with the wide selection of non-processed and natural pet food and treats at Felix & Oscar, who could blame them?
With good nutrition and care, pets can live happier, healthier lives, said Logan, a manager at Felix & Oscar, who has been working at the store for almost seven years.
"People often ask us, why can't I just buy food for my pets at the grocery store? Our main goal here is to educate," she said.
Pet food at the grocery store can contain by-products and fillers, and some pet owners don't recognize the importance of reading the label of products they buy. At Felix & Oscar, reading labels is encouraged. Customers will find products without artificial ingredients that are found in a lot of other pet food.
"It's important to be aware of what's going into your pet's body," Logan said.
As recent trends have encouraged people to consider what's going into their food, O'Leary said it's common sense for pet owners to consider the same for their dog or cat.
"If you wouldn't eat it, why would you feed it to your pet," he said.
Felix & Oscar provides food that is close to what dogs and cats would eat in the wild. The store includes a selection of raw meat and bones, natural food and treats, and more.
Logan advises pet owners to avoid any products with soy meal, artificial flavors, meat by-products, and corn and wheat-gluten, among others.
Eating natural, nutritious food can provide multiple benefits for pets, employees of Felix & Oscar explain.
"For some dogs, say one who has cancer, we can help the owner shop for certain lower glycemic foods, which is healthier for the dog," Logan said.
Felix & Oscar has a wide selection of healthy dog and cat food, including Nature's Balance, Orijen and K9 Naturals. There's even a bakery section that features delectable treats for pets.
"Knowledge is power. The more you know about your pet's food, the better of your pet will be," O'Leary said.

Diana and Steve Greiner, owners of Felix & Oscar, started their business to provide natural, wholesome food for pets. Felix and Oscar are the names of a cat and dog they adopted from the Fairfax County Humane Society.
"Pets are just so happy when they come in here, and their owners are too," O'Leary said.