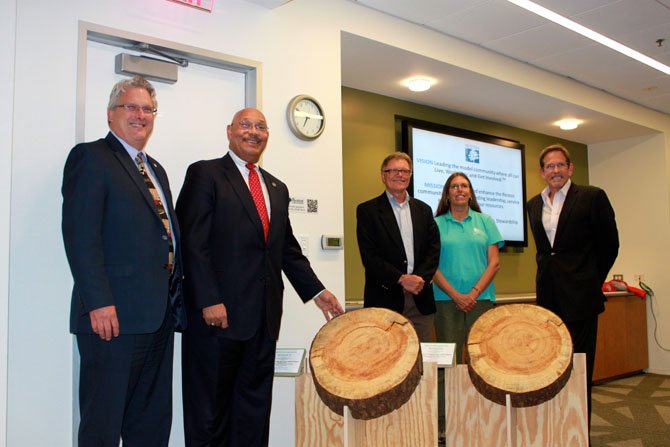 Most cookies are done after baking for15 minutes.
Not a tree cookie, however.
The largest Virginia pine in the state took about 140 years to become a tree cookie, where it was awarded to the Reston Association by the Fairfax County Tree Commission.
FCTC Chairman Robert Vickers explained that a "tree cookie" is a cross section of a tree to show the rings at Thursday's meeting.
"I was driving down Reston Parkway and stopped at the intersection of Lawyer's Road and there's kind of a park and ride there, and I saw this enormous pine tree," he said.
That was three years ago. When he measured it, he found out it was the largest pine in the state, according to a Virginia Polytechnic Institute and State University tree website. When the 2012 derecho hit Northern Virginia, he found out the tree was no longer alive.
Vickers' love for trees goes back several years.
"About seven years ago, Great Falls had a competition to identify the biggest trees in Great Falls," he said.
After searching the area with a tree guide fresh in his memory, he found that the biggest elm tree in the state of Virginia was growing there in the village.
He said that the age of the pine found in Reston is significant.
"It's pretty rare because Virginia Pines are quite delicate," he said.
He suggested a county-wide tree competition be created to help nurture a love for nature.
"You are one of the finest citizens associations in the county," he said. "Why don't you have a contest to find the largest tree in Fairfax?"
The tree, which was on Reston Association's property, was uprooted during the most recent derecho. Because the county park authority helped to remove the tree, they were also awarded a "cookie" from the tree.
Reston Association Parks and Recreation environmental resource manager Claudia Thompson-Deahl said she hoped one of the tree cookies could be given to the Walker Nature Center.
"Trees are what make Reston so special," she said.