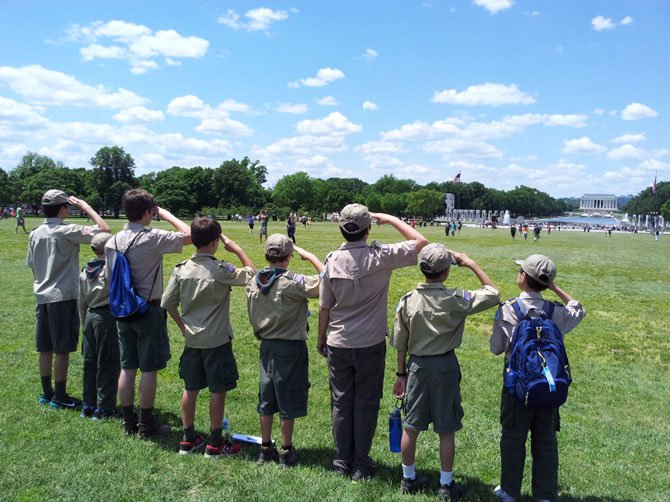 On May 25, 16 Boy Scouts and Adult Scouters from the Great Falls Troop 55, chartered by St. Francis Episcopal Church, honored our nation's heroes by participating in the 7.2 mile Baden-Powell Hike in Washington, D.C. Sir Robert Baden-Powell was the famous English General and founder of Scouting in England in 1907. The National Capital Area Council (NCAC) of the Boy Scouts of America introduced this inaugural Baden-Powell Hike to celebrate Memorial Day and help scouts understand the history of Scouting in Washington D.C.
Starting the hike from the FDR Memorial the Scouts hiked around the National Mall, which included the major Memorials and Monuments, Boy Scout Monuments, Capitol Hill, and the Peace Monument. Along the route, Troop 55 Scouts paid tribute to the fallen, saluted our nation's great leaders, studied scouting history by answering 21 questions, and did their civil "Good Turn" by removing trash from the streets. The Boy Scouts also cheered the riders of the annual Rolling Thunder Motorcycle Rally honoring POWs and MIAs.
Completing the 7 1/2 hour educational hike, the Scouts earned the limited (only 3000 available nationally) Inaugural Baden-Powell Hike Medal. The Medal was a reproduction of the original Gold Medal awarded to Boy Scouts for their heroic action during the time of President Wilson's inauguration in 1913. Boy Scouts and Scouters of Troop 55 found the greatest reward was the opportunity to pay tribute to the men and women who serve our country.