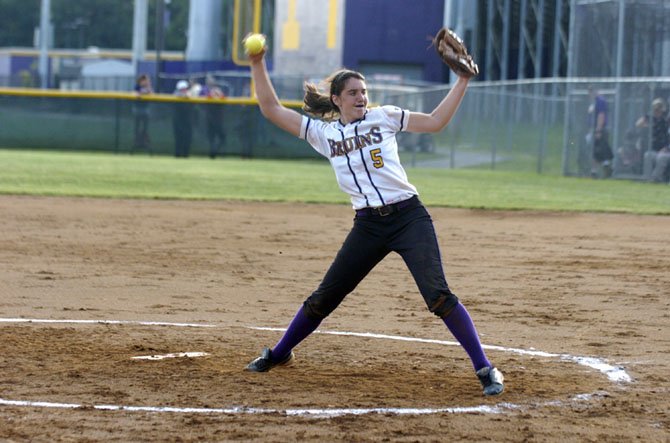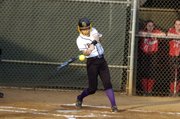 With runners on first and second with nobody out in the bottom of the ninth inning, Lake Braddock catcher Caroline Jones swung at the first pitch she saw and popped out via the infield fly rule. The next two Bruin batters would strike out, keeping Monday's 6A North region quarterfinal softball contest against Madison locked in a scoreless tie.
"I [knew we] would score," Lake Braddock pitcher Ashley Flesch said later that evening. "It was just a matter of time."
As it turned out, Flesch, who battled Madison's Katie Vannicola in a lengthy pitcher's duel, was right. After the Bruins scored once in the bottom of the 10th to keep their season alive, Jones would get another opportunity with a runner in scoring position in the bottom of the 13th. This time, the sophomore slugger would send Lake Braddock to the semifinals.
Jones hit Vannicola's 202nd pitch of the evening back up the middle for an RBI single, giving the Bruins a 2-1, 13-inning victory over the Warhawks on June 2 at Lake Braddock Secondary School. Jones' hit was one of just four the Bruins managed against Vannicola, but Lake Braddock found a way to outlast the Warhawks.
Lake Braddock will host Langley in the semifinals at 7 p.m. tonight.
"It was definitely a battle," Jones said. "Katie is an amazing pitcher, Madison is an amazing team. We knew that if we slipped once, the door is wide open for them, so we had to stay strong as a team and we finally pulled through."
LAKE BRADDOCK left the door open in the top of the 10th, when Madison left fielder Jordyn Pistilli broke a scoreless tie with a one-out RBI single. However, the Bruins countered in the bottom half, when a single by freshman third baseman Patty Maye Ohanian and a Warhawk error tied the score at 1-all, sending the marathon contest into the 11th inning.
"I [knew we] would score. It was just a matter of time."

---Lake Braddock pitcher Ashley Flesch
Madison had a chance to take the lead in the top of the 13th, but Lake Braddock center fielder Jenna Edwards threw out the potential go-ahead run at home plate after the Warhawk runner attempted to tag up on a fly ball.
Jones' single in the bottom half of the inning ended the game.
"The character of the kids is outstanding," Lake Braddock head coach George Rumore said. "They just don't quit. They love to play and they hung in there. We know that if Ashley … is holding us in the game, that we just have to keep playing good defense and keep making plays, and then we hope we get somebody across the plate."
Flesch was dominant in the pitcher's circle, allowing one earned run and nine hits in 13 innings. She walked none and struck out 12. Flesch threw 155 pitches, including 119 strikes.
Flesch pitched in a similar game earlier this season, when Lake Braddock and South County went 13 innings on April 24. The senior right-hander was phenomenal, allowing just one hit while striking out 19 in 12 2/3 innings pitched. However, the Bruins failed to score and suffered their only loss to date, 1-0.
DESPITE THE EXPERIENCE of losing to South County, Flesch said she believed the Bruins would eventually score during Monday's contest against Madison.
"She had a lot of endurance," Jones said. "She keeps hitters off balance, she's very hard to hit and she's very deceptive. … She's a warrior out there. She fights for us and she never gives up."
Vannicola suffered the loss on Monday. The right-hander allowed two runs --- one earned --- and four hits in 12 2/3 innings. She walked eight and struck out 17. Vannicola threw 202 pitches, including 119 strikes.
Lake Braddock first baseman Amanda Hendrix doubled in the ninth inning. Ohanian had a pair of singles for the Bruins, and Jones had one.
Lake Braddock improved to 23-1. The Bruins won their second consecutive Conference 7/Patriot District title this season, beating South County in the championship game on May 23. Last year, Lake Braddock entered the regional tournament with a 19-1 record before losing to Centreville in the opening round.
"I think people actually forget how young we were last year," Rumore said. "We only had one senior. This year, we only have two. … They just weren't used to everything. I think now, they're just a little older, a little more experienced, they play a little more travel ball at a higher level, [and] overall they're just more mature than what they were."