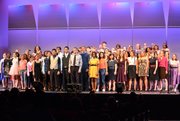 Centreville — The Centreville High School Choral Department will present its summer concert, "Broadway Pops," this Thursday and Friday, June 5-6, at 7:30 p.m. in the school theater.
Choral Director Lynne Babcock says it'll be a special event because this free concert features "the enormously talented CVHS singers performing music from their Broadway and pop music repertory."
The school's six choirs will sing and dance to medleys from "Opening Night" (Women's Ensemble), "Joseph and the Amazing Technicolor Dreamcoat" (Men's Ensemble), "Footloose" (Concert Choir), "Mamma Mia" (Bella Voce), and "West Side Story" (Symphonic Choir). The Madrigal Ensemble will perform vocal jazz arrangements of "Once Upon a Time" from "All American" and Stevie Wonder's "The Real Thing."
Two vocal groups directed by choral students will also perform. Contempo, directed by Sanya Manoj and Meghan Pollard, will be singing "Pompeii;" and The Downbeats, directed by Ajmal Bakhtari, will sing a medley from "Aladdin." Also highlighted will be various senior soloists, including Bahktari and Manoj, plus Laura Eom, Hailey Knapp, Tanya Kumar, Jessie Lamke, Patrick McGinty, Angel Seo, Sarah Beth Seidel and Nadia Smith.
"Broadway Pops is choreographed each year by Tara Penick, a professional choreographer on the faculty of the Richmond Ballet," said Babcock. "She works up and down the East Coast and throughout the Midwest choreographing for schools, theaters and dance companies. She is a gifted teacher and choreographer and does consistently creative work for the CVHS choral program."
The back-up band for the concert will be Lynne Babcock on piano, her husband Scott on drums, Centreville choral alumnus Emily Dohse on synthesizer and GMU music teacher and Grammy Award nominee Glen McCarthy on bass.
Following the concert will be a reception hosted by the Centreville Choral Boosters for both the audience members and performers.
"This concert caps off a highly successful year for the Centreville Choral Department," said Babcock. "Along with a busy concert schedule, it presented its annual fundraiser, "Choral Cabaret," as well as its yearly "A Cappella Night."
In addition, this past fall, the advanced ensemble, Symphonic Choir, sang for its fourth year at The Kennedy Center with the National Symphony Orchestra in "A Concert against Hate," produced by the National Anti-Defamation League.
"The Symphonic Choir was also were instrumental, along with Centreville's advanced orchestra and band ensembles, in achieving Blue Ribbon status for Centreville High this year at District Assessments," said Babcock. "This is the highest honor that can be awarded to a Virginia school by the Virginia Music Educators' Assn."
"The CVHS Choral Department hopes that lots of people in the community will attend this wonderful, final concert of the year," she continued. "Many of these students are as or more talented than those singers you see on TV on all the competition shows. The level of entertainment to which the audience will be treated is equal to that which you would find in a professional theater — and yet, this concert is free. I couldn't be prouder of my wonderful students — they have worked so hard and they are doing beautiful work. It's been a wonderful year."
Following Broadway Pops, the Choral Department will close out the school year with its annual awards banquet and will then perform at Centreville High's graduation ceremony, June 20, at GMU's Patriot Center.