The thunderous percussion of Dranesville Elementary's "Drumming Dragons" served as accompaniment while its students and faculty alike proceeded from the building to sit among six painted wooden garden beds. Principal Kathy Manoatl of McLean set the tone for this memorial ceremony the afternoon of May 30 in her opening speech to the crowd.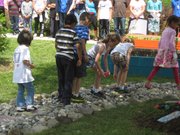 "Today is a joyful day, because we are opening a garden," Manoatl said. "There are many beautiful things in this garden, growing new things for our world. Today is a joyful day because we have here in front of us a memory of Jessica."
Jessica Melendez Maradiaga was a 5-year-old kindergarten student at Dranesville Elementary. Earlier this year, Jan. 24, she passed away from a brain tumor in the Hospice of Northern Virginia in Arlington, where she was its youngest patient.
"Every time you come out to this garden, I want you to think of a smiling young girl whose name was Jessica."

— Dranesville Elementary's Principal Kathy Manoatl
"I knew Jessica because she was a student at Dranesville, and since I'm the principal, I have the joy of knowing all of my students," Manoatl said. "Jessica was a joy-filled student here at kindergarten with us, and we had the joy of knowing her for five months. I was very lucky, because I got to visit her at her home and hospice, I got to see her in the classroom, and I've gotten to know her mom very well."
Manoatl said Jessica's Garden came into fruition at the behest of a group of seven fifth and sixth grade students and neighbors of Jessica, known as the Love Spreaders.
"The Love Spreaders had a meeting with me and were very concerned that something be done to remember Jessica," Manoatl said. "We were already thinking of a garden, so I asked them at that point if they would like us to gear the garden toward Jessica. To them, it seemed like a natural idea."
Art teacher Anne Nagy of Fairfax described the process of constructing and installing the garden as one involving significant teamwork from Dranesville's students and faculty.
"It started out as a small meeting with a group of students, then it morphed into this huge project where everyone got involved," Nagy said. "Sixth grade students painted the flower beds, we raised money for the mosaics, the kids worked on the mosaics and decorations, and everyone came together as a community."
Nagy said she finds a garden to be a particularly fitting way to honor Jessica's memory, as well as a great method for beautifying the Dranesville school grounds.
"I think a garden is an important part of life and an important way to honor a person because it's where things grow and it's a fun place for students to learn, and I think it needed Jessica's presence to be felt here" Nagy said. "When I came to the garden's location a few weeks ago, it was so sad, and now, it's a really great place. I think everyone is going to be coming here a lot more now."
Following the placement of painted "peace rocks" at the garden's entrance by second graders, as well as a musical tribute from the fifth and sixth grade chorus, Rosalina Maradiaga of Herndon cut a pink ribbon at the garden's entrance. Maradiaga, whom Manoatl introduced as "la mama de Jessica," symbolically opened the site commemorating her daughter.
"I feel happy about these efforts to commemorate Jessica; I feel sad, but I give thanks to everyone who has done this," Maradiaga said. "I hope to come to visit, maybe later this week. I feel grateful because, if it wasn't for the school, this garden wouldn't have been made."
Love Spreader Gaby Mejia, age 12, said she, too, will be visiting Jessica's Garden on occasion.
"I'm going to middle school next year, so I'll be coming back to Dranesville to visit this garden," Mejia said. "I never met Jessica, but she lived in my neighborhood, and from what I heard, she was really kind and cool."
Manoatl ended her speech to the Dranesville community on a poignant note.
"Before we leave today, remember that this is your garden," Manoatl said to her audience. "This is what we as a community have created, and this is in Jessica's name. Every time you come out to this garden, I want you to think of a smiling young girl whose name was Jessica."