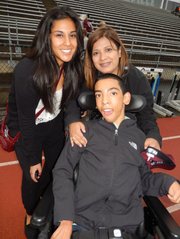 Ibis Espinal needs an accessible van — not for her, but for her 17-year-old son, Juwaan. A junior at Centreville High, he's wheelchair-bound due to cerebral palsy.
He's also popular with his peers, belongs to Best Buddies at his school, likes English and history and maintains a 3.8 GPA. But as he's grown, it's become harder and harder for his petite, single mom to lift him in and out of their car. His sister's away at college and there's no one to help her on a daily basis.
"Juwaan had surgery in September to correct the 75-degree scoliosis curve in his back because it was affecting his lungs and other internal organs," said Espinal. "As he's healing, he's getting stronger. He grew 4 inches from the spine-straightening and then another 3 inches on top of that, and gained 30 pounds."
So, she said, "He's heavier and taller now and is too big for me to carry." They recently moved from Singleton's Grove into a one-level apartment in Centre Ridge. But, said Espinal, "As a parent, things have been overwhelming for me."
She's a mortgage-loan processor and an auditor, but has been out of work for six months and hasn't been able to find another job. They've been living off her savings and unemployment benefits and, said Espinal, "I've used all my 401K to cover the bills, including Juwaan's physical therapy. So it's tough — we didn't have a Christmas."
What she needs most of all, though, is an accessible van. "I have a small SUV, and I have to lift Juwaan into it — and he's 62 pounds now," she said. "But more importantly, I have to bend him to get him in the car seat — which I'm not supposed to do because of the rods in his back. So it's compromising his wellbeing."
It's also difficult for Espinal to lift his wheelchair into the car. And an accessible van would help her son gain some independence, too. "He has a power chair, but it stays in school," she said. "Because we don't have an accessible van, we can't bring it home. That limits him to using the power chair only for school."
If Juwaan could have his power chair full time, she said, "It would improve his mobility and would allow him to be more social then ever. And it would make it so much easier to take him to sports events, the mall, doctors' appointments, etc."
Trouble is, a used accessible van costs $23,000-$27,000 and insurance doesn't cover it. So Espinal has just started a fundraising campaign on the Website, GoFundMe. Anyone who'd like to contribute may do so at http://www.gofundme.com/9urdgg.