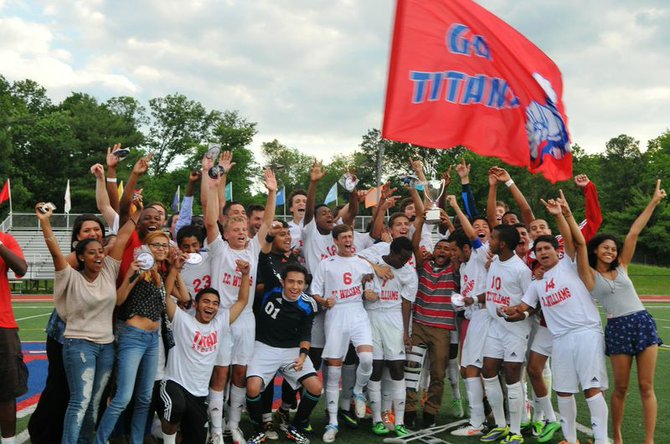 An hour prior to Thursday's 6A North region championship match, T.C. Williams boys' soccer coach Martin Nickley met with Wilson Miezan and told the senior forward he'd be playing defense.
His assignment: man-marking Washington-Lee sophomore sensation Maycol Nunez, who had scored 37 goals in just 20 matches, including three during the Generals' 4-0 regular-season victory over TC on May 13.
Miezan, an offensive threat in his own right, accepted the challenge, forgoing potential goal-scoring glory in an attempt to help the Titans win a title.
"[Nickley] thought I was the best matchup one-on-one to mark [Nunez], so I was like, sure, I can step up," Miezan said. "I take pride in playing everywhere, so I don't really mind."
When Thursday's match ended, Nunez was frustrated and scoreless, and the Titans were champions.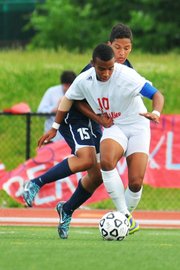 Eryk Williamson scored four goals, Ramsey Benzina totaled three assists, and T.C. Williams captured its first region championship since 1974 with a 5-2 victory over Washington-Lee at Parker-Gray Stadium in Alexandria.
"It's big," Miezan said. "… It's fantastic for us."
For the first 55 minutes of Thursday's match, Miezan helped lock down Nunez, holding him without a goal and limiting his offensive opportunities. Nunez would spend the final 25 minutes on the bench after receiving a red card for throwing an elbow.
"Once I gave him that assignment, I didn't look at him again the whole day," Nickley said. "[I figured Miezan would think], 'Coach dropped this on me an hour before?' He knew he was up for a big assignment because Maycol Nunez has had an unbelievable year. But I think Willy really bought into that and was very excited to accept that challenge and [it] worked out well."
Benzina, a team captain, praised Miezan's selfless move from forward to defender.
"He's been such a great player, but that's the best I've ever seen him play," Benzina said. "… Willy's just that kind of guy."
Nunez received a red card for throwing an elbow, sending him to the bench with 25 minutes remaining and W-L trailing 3-0. The sophomore forward, by rule, will have to sit out of the Generals' state semifinal match on Thursday, June 12.
"It was stupid," W-L head coach Jimmy Carrasquillo said. "It was frustration and being stupid. That's all it boils down to. He's young [and] frustrated. He had all this success and today he's not getting a lot of balls, not getting a lot of touches. He got frustrated and it was stupid."
While Nunez struggled, his Arlington Strikers Red club teammate, Williamson, thrived. Williamson sat out of the regular-season match against W-L after receiving two yellow cards in the previous contest against Annandale. In Thursday's region final, he scored four goals, two in each half. His third goal came two minutes after Nunez received a red card.
"He had a magical night out there," Nickley said about Williamson. "That was a great performance."
"It feels amazing. We were falling short in the second round and now that we got past the second round, it feels good to go all the way and win it."

--- T.C. Williams junior Eryk Williamson
T.C. Williams, playing with a strong wind at its back in the first half, jumped out to an early lead when Benzina served in a corner kick and Kaleab Ferede finished with a header in the fifth minute, giving the Titans a 1-0 advantage. Williamson scored in the 12th minute with an assist from Benzina, building the TC lead to 2-0. In the 33rd minute, Benzina served in a long free kick and Williamson found the back of the net with a header, giving the Titans a 3-0 lead heading into halftime.
"We came out flat [and made] dumb mistakes in the back," said Carrasquillo, whose Generals saw their record fall to 17-1-3. "Of all games where you don't want to lay that first egg, today was it. Today was the wrong day to do it."
After Williamson's third goal gave TC a 4-0 lead in the 57th minute, W-L countered with a goal from Roger Rojas in the 58th. W-L continued to battle and cut TC's lead to 4-2 when Noah Goodkind scored on a header with an assist from Michael Katz in the 67th minute, but Williamson added an insurance goal in the 72nd.
After losing in the region quarterfinals multiple times in recent seasons, the Titans set their sights this year on getting past the second round. TC beat McLean 2-1 in overtime in this year's quarterfinal round on May 30 and has kept on winning. The Titans defeated Battlefield 3-0 in the semifinals on June 3 before knocking off previously unbeaten W-L.
"It feels amazing," Williamson said. "We were falling short in the second round and now that we got past the second round, it feels good to go all the way and win it."
Next up for T.C. Williams is a state semifinal match against 6A South region runner-up Hylton at 7 p.m. on Thursday, June 12 at Robinson Secondary School. Washington-Lee will face Grassfield at 5 p.m.
Nickley, who is his 24th season as T.C. Williams head coach, also led the Titans to the state tournament in 1993 and 2002. Nickley said players from each of his previous two state tournament teams have offered their support.
"Some of the guys you saw were from the '93 team and they were just the biggest fans up in the stands," Nickley said. "Some of those [guys] were from the 2002 team and they were calling and texting, 'Go ahead, let's take that other step. Let's win it this time.'"