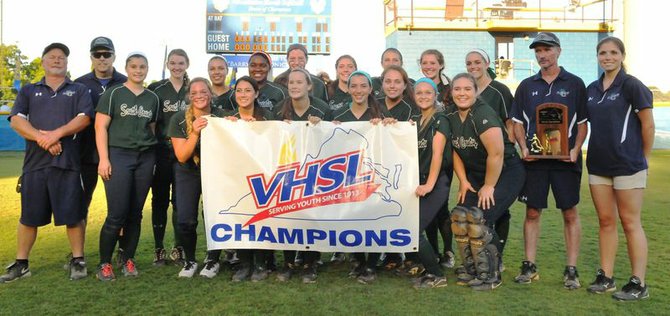 South County catcher Haylea Geer hit a deep fly ball in the fourth inning of Sunday's state championship game that drove Cosby center fielder Kayla Helms back to the fence.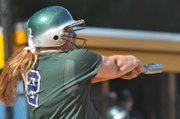 Helms reached up and got her glove on the ball, but failed to make the catch. The ball landed on the other side of the fence and Helms put her hands in the air, signaling the ball was unplayable. Unsure of what the ruling would be, Geer sprinted around the bases and touched home plate.
"That's the quickest home run trot," South County head coach Gary Dillow said, "you'll ever see."
An umpire went out to center field, saw the ball had cleared the fence and signaled home run. The Stallions celebrated in front of the third-base dugout and came to a realization.
"That's probably the moment," senior pitcher Rebecca Martin said, "where everyone felt like we had a good chance to win the game."
Geer's home run gave South County confidence and a 1-0 lead. From that point, Martin continued pitching well, first baseman Riley Wilkinson ripped a three-run double, and when third baseman Caitlin Maglich caught a pop up in for the final out, the Stallions were state champions.
The South County softball team captured the first state title in program history on June 15 with a 4-1 victory over previously unbeaten Cosby in the 6A final at Robinson Secondary School. Martin earned the victory in the pitcher's circle, allowing one earned run and three hits in seven innings. She struck out 10 and did not walk a batter.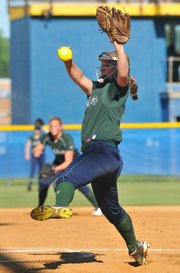 In recent big-game victories over Lake Braddock in the region final and First Colonial in the state semifinals, Martin kept South County in the game with her performance in the pitcher's circle until the Stallions scored in extra innings. On Sunday, Geer's home run off Cosby pitcher and Virginia Tech signee Chelsea Whitcomb gave Martin a fourth-inning cushion.
"It's gotten to the point where I almost don't expect to score until [the 10th inning], so I almost didn't believe when we got a run," Martin said. "It was really a different experience. Scoring that early, that's when I felt that we could really have a good chance to win this game."
Geer, who went 2-for-3 Sunday, said her homer relaxed the Stallions, who needed 11 innings to beat First Colonial 1-0 the night before.
"It really calmed us down because, yesterday, all the innings that we went, we didn't want that to happen again," Geer said. "Having the chance to get up early, we knew that we most likely weren't going to have to go extra innings and it gave everyone a confidence that we could beat this team."
Wilkinson extended South County's lead to 4-0 with a two-out, three-run double in the fifth inning. After left fielder Courtney Ward singled, shortstop Jade Williams walked, and Maglich singled to load the bases, Wilkinson lined an 0-1 pitch down the left-field line, extending the Stallions' lead to four runs.
"I really wasn't thinking anything," Wilkinson said about her approach at the plate. "It was just, you've got to hit it, you've got to do it."
Wilkinson finished 2-for-3 at the plate.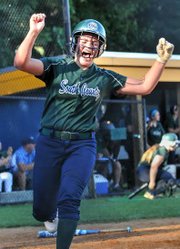 While the South County lineup provided runs, Martin took care of business in the circle. She allowed a leadoff single in the first to Whitcomb, who advanced to third on an error. Cosby failed to score, however, as Martin struck out the next three Titan batters.
After surrendering Whitcomb's leadoff single, Martin did not allow another Titan batter to reach base until right fielder Megan Meindl doubled to lead off the seventh. Third baseman Savanna Ols delivered an RBI double in the seventh, accounting for Cosby's only run.
"She's been clutch from Day One," Dillow said about Martin. "She came in as a freshman and won that 12-inning game against [West Potomac] for our first conference championship with this group. Nothing fazes her. She's always relaxed. She's pitched every clutch game for us the last four years and usually when we lose, it's because we don't score, it's not because she hasn't pitch well."
Martin will attend the University of Virginia and will attempt to walk on to the softball team. Shortstop and senior captain Whitney Burks, who missed most of the season with an injury, will play for Stanford. Geer (West Chester) and catcher Zena Roberts (Colby College) will also play college softball.
South County finished the season with a 26-3 record. The Stallions finished runner-up in Conference 7, won the 6A North region championship and captured the state title.
"It's such an incredible feeling," Dillow said. "I'm so happy for the kids."