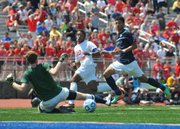 T.C. Williams forward Eryk Williamson torched the Washington-Lee boys' soccer team for four goals in the 6A North region championship match on June 5.
Ten days later, the two teams met for a rematch in the state final. This time, W-L changed its strategy in an effort to make life difficult for TC's talented striker.
Generals head coach Jimmy Carrasquillo assigned senior Rommel Romano to man-mark Williamson. On a hot June afternoon in Fairfax, Romano followed Williamson on the turf field at Robinson Secondary School, barely allowing him room to breathe. After a scoreless first half, Williamson finally busted loose, scoring a goal in the 52nd minute.
Thanks to a strong defensive effort led by senior Wilson Miezan, Williamson's goal was enough to ensure the Titans made history.
The T.C. Williams boys' soccer team captured the program's first state championship on June 15, beating Washington-Lee 2-0. The Titans entered the season with hopes of getting past the regional quarterfinals. As it turned out, they would accomplish much, much more.
Sunday's victory brought TC's final record to 19-2. The Titans won the Conference 7 championship, the 6A north region title, and finished off a memorable season by capturing the program's first state championship.
"It feels amazing," Williamson said. "It's not every day you can be a state champion. It's a really great feeling. We worked really hard and I think all the hard work finally paid off."
"It feels amazing. It's not every day you can be a state champion. It's a really great feeling. We worked really hard and I think all the hard work finally paid off."

--- T.C. Williams junior Eryk Williamson
Washington-Lee assured Williamson's hard work would continue Sunday if he wanted to help the Titans take home the title. Romano defended Williamson closely, limiting his opportunities.
"We changed some things around," Carrasquillo said. "We're not used to man-marking somebody and then playing with one striker. It was definitely different for us. I think we handled the change fairly well.
"… Rommel's fast and he's tough. He's a hard kid. Eryk didn't do anything pretty much the whole game. He's getting behind us, but that's because the back line was afraid of playing too far back [or] too far up."
Neither team scored during the first half, but Romano received a yellow card in the 37th minute after he was called for a foul against Williamson, who ended up on the ground. Carrasquillo disagreed with the referee's call, and referenced two fouls from the previous night that went in Williamson's favor during the Titans' semifinal match against C.D. Hylton. Williamson finished with three goals and the Titans won, 6-2.
"To his credit, [Williamson is] a great player, but he's been flopping all year," Carrasquillo said. "The last couple games, he's caused the keeper to get a red card [and] he's caused two penalty kicks."
Williamson kept working and eventually struck pay dirt. He scored in the 52nd minute with an assist from Abdurazak Abdulla, giving the Titans a 1-0 advantage.
"The fact that I finally scored, it just felt amazing," Williamson said. "The whole game, [Romano] did not give me an inch of space. It was just really hard to play against. He's a really great defender. Finally getting the goal was just a relief that just came off our shoulders."
Ashenafi Desta added an insurance goal for TC in the 74th minute. The goal came moments after Titans goalkeeper Edgar Martinez made a save at the opposite end.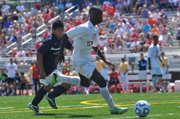 While the Generals focused on stopping Williamson, TC head coach Martin Nickley once again used Miezan, the Titans' second-leading goal-scorer, to man-mark W-L forward Maycol Nunez, who entered the contest with 37 goals. Miezan defended Nunez during TC's 5-2 victory in the region championship game, holding the sophomore sensation scoreless. Nunez received a red card for throwing an elbow during the second half of the June 5 match and sat out of the Generals' 1-0 win over Grassfield in the state semifinals on June 14.
"We were trying to approach it the same way we approached it last time, just trying to shut [down] Maycol," Miezan said. "We knew he was going to come for us, maybe try to get revenge from the region final."
The Titans succeeded holding Nunez --- and the rest of the Generals --- scoreless.
"[The Generals] were working hard defensively," Nickley said. "I thought Eryk handled it really well. He kept working at it and kept his composure. They were doing a great job of defending and we felt the same way [about our defense] --- we had a player that we were defending of theirs as well."
The Generals, who won the Conference 6 championship, finished the season with an 18-2-3 record, with their only losses coming against T.C. Williams in the region and state championship matches.
"It's been a fantastic run," Carrasquillo said. "… It's always fun when you're winning and get this far, and then you lose … two games to the same team, it's tough. It's a hard pill to swallow, but what can you do?"
While Washington-Lee produced a memorable season, it was T.C. Williams that captured the state championship.
"They just kept believing and bonding together closer and closer and working harder and harder," Nickley said. "It's just one of those things that they came every day to train hard and they were serious about what they were doing. I feel so proud that they've been able to receive a reward like that."