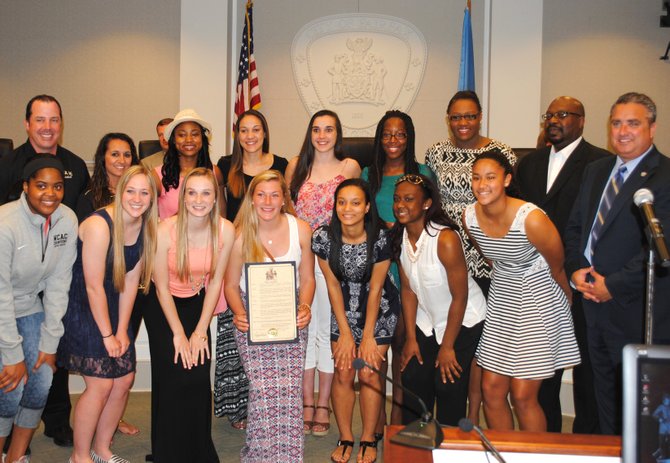 The Fairfax City Council recently recognized Paul VI's boys and girls basketball teams for winning both the Washington Catholic Athletic Conference (WCAC) and Virginia Division 1 titles. It was only the second time in WCAC history that both the boys and girls teams won the conference title in the same year.
The 2013-14 Paul VI girls' basketball team had a historic season with a 29-5 record. The girls won the WCAC regular-season and tournament championships. The Lady Panthers also set a national, high-school record by capturing their eighth consecutive Virginia Independent School division 1 state championship – Paul VI's 15th championship in the last 20 years.
They played one of the most difficult game schedules in the country by competing against nationally ranked teams in Florida, New York and Fairfax. The Lady Panthers finished with national rankings and were also ranked number one in Virginia by the Virginia Independent School Athletic Assn.
The boys' team became WCAC Champions with a 56-37 win over DeMatha High and VISAA Champions by beating previously undefeated and nationally ranked Cape Henry High. Paul VI's boys also won the Alhambra Catholic Invitational Championship.
Seven different players scored 15 or more points in at least one game during the regular season, which the team finished with a 31-6 record. The team was ranked number one in the Washington Metropolitan area and number six in the nation.
During the ceremony at City Hall, girls Head Coach Scott Allen said, "It's such a privilege to have such an outstanding team, parents and Catholic high school."
Boys Head Coach Glenn Farello praised the "wonderful community and student athletes – especially Evan Taylor, the lone senior who led us so well this year." And, he added, "It's wonderful to share this moment with the girls' team."