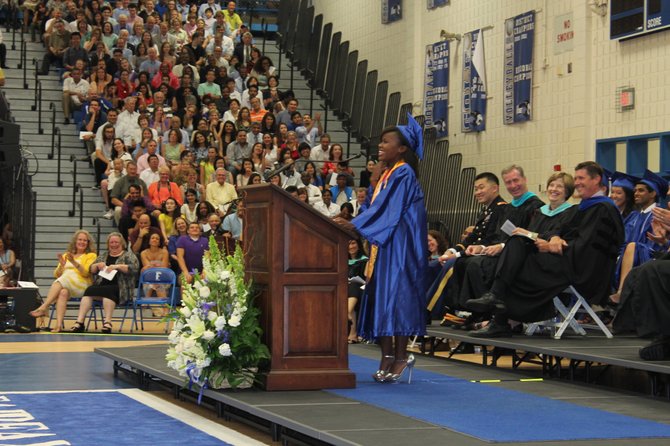 Smiles flashed and medals clanked as 570 Fairfax High School seniors strode across their school's field house stage Tuesday, June 17, eager to collect their diplomas. By the numbers, this latest graduating class boasted 204 Virginia Department of Education Early College Scholar Candidates, 97 National Honor Society members and 66 Honor Graduates.
In his opening speech to the audience, Principal David Goldfarb asked each graduate to "acknowledge that [they] had some help on [their] journey" from "people who carried [them] along the way.
"Believe it or not, your parents are awesome…think about how much time they've spent trying to figure out how Twitter works and why you like that music; do you know how hard that is for people like us?" Goldfarb said. "You were also so fortunate to have these talented educators beside you along the way. You may not remember all of the historical facts, rules, types of art and conjugated verbs they taught you, but more valuable is the time and passion they shared with you."
Josephine Kihiu, introduced as "a mature intellectual and dedicated student," delivered the Honor Graduate Address on behalf of her class. She asserted her classmates' graduation is not about their diplomas, but instead about their "immeasurable inner growth."
"Confident in what you want to do in a few years? Great. A little unsure? Still fine. Having daily existential meltdowns? Fantastic," Kihiu said. "Because even struggle is movement. We shouldn't fear the future. We shouldn't fear turmoil, or doubt, or unease or even failure. We should fear stagnation. The idea that we ought to live a trouble-free life safely within our comfort zones should absolutely terrify us. Remaining where we are, following a preapproved, predestined, preordained path, simply because our real aspirations are lofty, labor-intensive or might require opening an actual book is a lot like trying to sell Principal Goldfarb hair products."
Sub-School Principal Jeremiah Caven, City of Fairfax Mayor R. Scott Silverthorne and Fairfax City School Board Chairman Janice Miller led the ceremony's presentation of awards. Kyle Wilkinson, exalted for his "rare ability to be in charge and liked at the same time," received both the Outstanding Senior Award and Service Award. The trio also presented the Faculty Award to Benjamin Whetzel and the Fairfax Award to Jennifer Hwang. In return, the Class of 2014 purchased a water bottle-filling station for their school.
U.S. Army First Lieutenant Jason Pak served as the keynote speaker for the ceremony. A member of Fairfax High School's Class of 2007, Pak lost both legs and fingers on his left hand during service in Afghanistan, and yet, when asked if he regrets joining the military, answers "no" because "[he] did what [he loves] doing and [he] chose to do it." He encouraged the Class of 2014 to adopt a similar approach to their future.
"Everybody has their trials and tribulations in life; mine are only more visible," Pak said. "If you just convince your mind, you can do it. You'll be able to do it, no matter what. There are no limits to your abilities. Strive to be great, seek out your passions, let your obstacles be your motivation to succeed, be positive and, lastly, above all, never give up or quit."