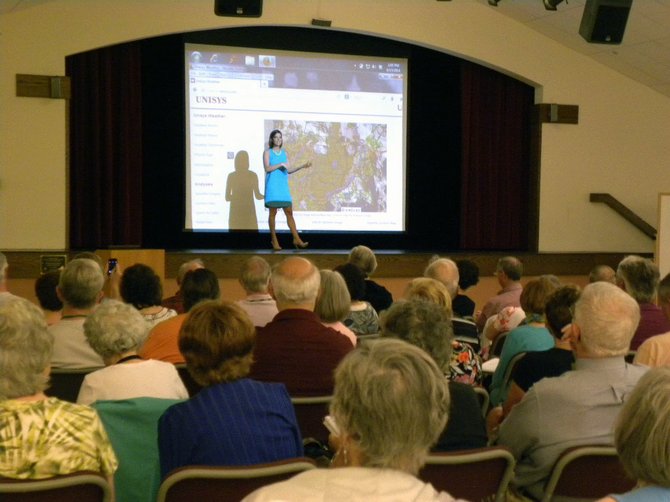 One hundred and forty-two people attended a seminar delivered by NBC Washington meteorologist Amelia Segal at the Church of Good Shepherd in Burke on Friday, June 13. The class was called, "A Day in the Life of a Meteorologist."
The Osher Lifelong Learning Institute at George Mason University, OLLI-GMU, organized the event at the suggestion of member Stephanie Trachtenberg, of Burke. "I have always been interested in the weather," she said. She reached out to several area meteorologists and Segal was the only one who responded.

The topic proved quite popular with the members that the event was moved to a larger venue. "We were up to 120 registered attendees when I checked this morning," said Alice Slayton Clark, OLLI-GMU communications associate and registrar.
Segal demonstrated how different weather models can be used by meteorologists to make a forecast. She covered several weather and climate phenomena, including El Nino, derecho, teleconnection, and climate change.
An attendee asked about the number of times meteorologists predicted weather that did not happen or was delayed, especially during forecasts of snowstorms and thunderstorms.
Segal said that improved technology and satellites that provide better data will help meteorologists make more accurate and timely weather prediction and analysis in the future.
OLLI-GMU offers its 1,200 members the opportunity to continue learning with classes and seminars. Its partnership with George Mason University in Fairfax enables access to resources and personnel that create a learning and academic environment similar to the college experience.
Skip Beale, of Centreville, has been a member of OLLI-GMU for three years. He has taken many classes since joining. "There are classes on every subject you can imagine, for any taste or any line of interest. You name it, they have it," he said. His favorite was a Shakespeare class that compared and contrasted the play King Lear with the movie 'A Thousand Acres,' which was loosely based on Shakespeare's work.
Joanne Beale, his wife, took a French conversation class. "It's been 30 years since I've spoken French so it was a bit of an adjustment but I loved it. I loved the teacher. I loved my classmates."

OLLI-GMU executive director, Jennifer Disano, said that OLLI-GMU members also get socialization in addition to education. "We have a lounge and several clubs. The photography and investment clubs are very popular. We also have a computer club," she said.
Membership is $375 a year, which includes unlimited classes. For those interested in becoming members, there is an introductory rate option and an opportunity to sit in on a class.