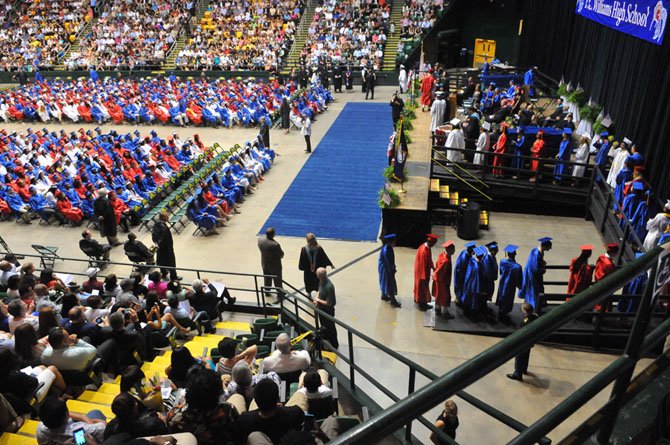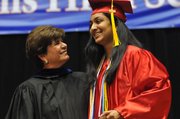 Good Afternoon. On behalf of the students and staff of T.C. Wiilliams High School I would like to welcome our distinguished guests, our parents, families, friends and most important, our graduates from the class of 2014. This is the day when we officially recognize that you have met the requirements for a diploma in the state of Virginia. But it is so much more than that. It is also a special pause in time in which we stop and reflect on who you are, where you have been and what you will become
Preparing students for the rest of their lives is no easy task and it takes the hard work, dedication and love of a great many people. So before I talk about you, I would like to talk about those special people. Commencement is also about gratitude. It's a time when we thank those people who have made a positive difference in your lives — parents, grandparents, aunts, uncles, cousins, neighbors, teachers, counselors, administrators and other support staff. At some point someone in this room has worried about you, supported you, cheered you up when you were sad, shared your disappointments, listened to your sorrows or shared in your joys. We thank all those people for their patience, their guidance and their dedication to our students. Special appreciation goes to Mr. Gregory Baldwin your dean, Ms. Jessica Hillery, lead academic principal and Mr. Rene Cadogan, dean of the International Academy for their extraordinary patience and commitment to the scholars of the class of 2014.
Our community extends beyond the doors of T.C. William High School. We must not forget those people on stage that set the policies and support school personnel. Dr. Crawley and the School Board, we thank you for your encouragement and support.
Every class has its own character and challenges and you are no exception. However, you are special because you were 9th graders when we began our transformation. You are also the first class to face the more rigorous standards for the SOL exams and graduation requirements. It is no longer easy to earn a high school diploma. When you walk across this stage and you hold that diploma in your hands, you need to know that you have earned something worth having.
You may not recognize the changes at TC because this is all you know. You almost take for granted our award-winning arts programs, the increased school spirit, the emphasis on academic achievement and our consistent drive to improve our school. Over 200 more students from this class took an Advanced Placement test. Our top students had such high grade point averages that in some cases there was only eight-thousandths of a point difference among them. Our valedictorian and salutatorian are the best of an outstanding group of students, all of which need to be celebrated. Our students have been accepted to some of the best schools in the nation. As important, many of our students are enlisting in the armed forces and will serve our nation proudly. If you are a graduate joining the military or you are currently or have served in the military will you please stand so that the TC community can honor and thank you for your service. For the fourth consecutive year, we are a blue ribbon school of the arts. Our JROTC program continues to be a gold star distinguished unit. Our boys track team won the state championship. Our football team competed in the post season play-offs for the first time since 1987. Our boys' soccer team won the regional championship and this evening at 7:30 at Robinson High School they will compete in the semi-finals of the state tournament. We hope to see you there.
We have spent so much time lately worrying about the few students that did not graduate that we almost forgot to celebrate the students who are graduating from TC this year. But today we celebrate the graduation of 661 students who have had to meet the highest standards in the history of the state of Virginia. Good for you. What an amazing feat!
To write this portion of my speech this year, I called upon the assistance of our faculty. I asked our staff to tell me about the most important lessons they taught students. They came up with some amazing examples that seem to fall into certain categories:
Many teachers talked about the importance of human kindness. One teacher said he taught students that they had a super power and that was the power to be the best thing that happens in someone else's day.
Others mentioned the importance of learning from one's mistakes. One counselor suggested that this is where real learning takes place, but it was probably better to learn from other's mistakes rather than your own.
Many teachers wrote about resiliency. They talked about facing adversity with strength and courage and never giving up even in the darkest days. One brave teacher shared with me pieces of his life story. It so touched me that I wanted to share it with you. On a small piece of paper, it was written:
"I teach my students that even if you eat every other day, even if your parents are not there, even if you have to sleep in the streets, even if the roof you sleep under leaks water when it is raining and you have to get up every two hours to empty the buckets the water falls in, even if some people give up on you, you can get up and teach others so that they know that if you made it so can they."
Other teachers talked about the importance of hard work. Over and over again teachers said that there was no substitute for it. The race isn't always won by the smartest or the fastest, but the one who works the hardest. As one of our deans states, "True Titans work like Champions."
Many more teachers mentioned taking responsibility for one's actions. One person said, "Although the value of a supportive community, family, and teachers cannot be underestimated, ultimately your success or failure is up to you."
Other teachers taught students the importance of being honest and displaying a sense of integrity. One of my personal favorite quotes states: "What is right is not always popular, what is popular is not always right.
Finally, one counselor reminds students to take care of themselves. She stated, "When life gets you down, run, walk, dance, move your body and enjoy life."
Kindness to others, learning from your mistakes, resiliency, hard work, accepting personal responsibility, integrity, and taking care of one self are wonderful lessons. I hope you have learned them well and you will carry them with you throughout a long and happy life.
On this wonderful day of celebration I salute you, the class of 2014 and wish you the best that life has to offer. Now go out there and make the world better by your presence. God bless you and keep you safe.
It is now my pleasure to present the Principal's Award to the outstanding male and female of the class of 2014. What a hard job it was! There are so many special students in this class that I literally sat down with the yearbook and made lists of students for consideration. My female choice is every teacher's dream. She is bright, conscientious, articulate, mature, kind and caring. Her passion for her future career in science and medicine has compelled her to seek practical experience in these areas. She has collaborated with doctors and scientists and earned numerous honors for her efforts. She is poised far beyond her years. I can't wait to see what she does in the future. I know it can only be something that will bring pride to her family and community. The Principal's Award for the outstanding female for 2014 goes to Hira Mohyuddin
The Principal's Award for the outstanding male student is everyone's favorite classmate. He is bright, conscientious, and hardworking. Whether he is painting posters to advertise the homecoming activities, suggesting an idea to improve student life or leading the pep rallies, he is the ultimate cheerleader of TC and embodies the true meaning of Titan Pride. He approaches life's toughest lessons with courage and dignity and never fails to put a smile on his face. His plans a future in hospitality where I know he will shine. His easy going and caring personality makes him a natural for this career. The Principal's Award for the outstanding male goes to Steven Hetzer.