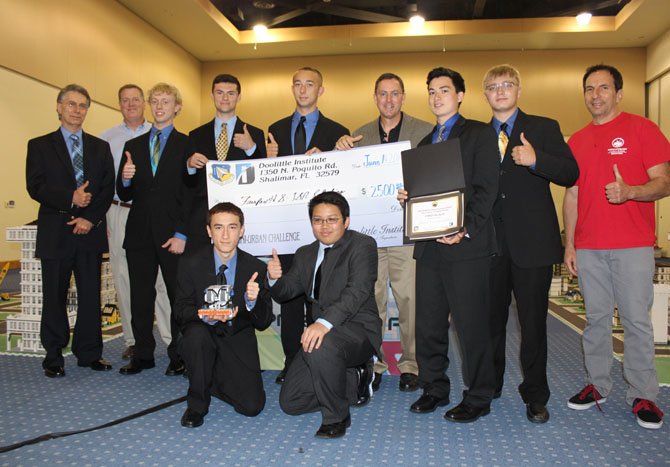 Fairfax High School is a national champion. On June 14, at the Emerald Coast Conference Center in Fort Walton Beach, Fla., its robotics team won a national competition called the Mini-Urban Challenge.
Sponsored by the U.S. Air Force Research Laboratory, it challenges high-school students to design and operate a robotic car to autonomously navigate through a model city. The cars are created using LEGO® MINDSTORMS® education kits.
The Fairfax team members are Thomas Dabney, Jack Rizek, Calvin Rizek, William Chang, Philip Simpson, Paul Huravitch, and Francis Winn. And they all learned research and developmental engineering from their teacher, Emre Ege.
"The sheer success of our students comes with their excessive preparedness and planning," he said. "But they managed to bring a U.S. championship to our school, Fairfax County and the Commonwealth of Virginia."
It was the sixth annual Mini-Urban Challenge, and teams who win first and second places in regional competitions are invited to compete. These five regional competitions are organized by the U.S. Air Force Research Laboratory and Doolittle Institute Inc.
Doolittle is a Florida nonprofit dedicated to finding solutions for modern-day problems by creating an innovative environment where cutting-edge thinkers from the realms of industry, government and education can collaborate. It also promotes STEM (science, technology, engineering and math) education.
ONE OF THE REGIONAL COMPETITIONS was in Washington, D.C. "Every year, our school team is invited to the National meets," said Ege. "But this is the first time our school earned a U.S. championship in robotics."
The 2014 competition involved all elements of navigational robotics. "Students design and assemble a robot capable of going distances accurately, based on a student-written program plus signals received from its color and light sensors on a painted mat," explained Ege.
The challenge, he said, is programming the robot within 45 minutes so that it stops in seven assigned locations during the competition. The robot must follow colored lines and obey traffic and speed rules by stopping at red lines, slowing down on yellow lines, parking only in designated spots and not running over pedestrians.
Teams earn 70 percent of their points from this part. The other 30 percent comes from a live presentation by the team members. The robot competing is a LegoNXT programmable Brick. "It's part of our curriculum in Research and Development Engineering within the Technology and Engineering Department," said Ege. "I teach seven courses all related to engineering and architectural disciplines."
Although Fairfax High has Robotics, Engineering and Architectural clubs, he said this particular type of robotics study is "too demanding" for only a club activity. "Class activities involve learning and applying LegoNXT and RobotC programming languages and assembling a navigational robot according to specifications," said Ege.
"It's a lot of fun for creative, resourceful, productive and engineering-minded students," he continued. "And the students also learn competitive presentation and marketing skills in cooperation with our Business and TV Production departments."
BESIDES BEING THRILLED with his students' performance in Florida, Ege's also happy that his program at Fairfax is getting national recognition. "I have been setting goals very high for the students, but also keep it motivating, fun and interesting," he said. "Creating self-motivated students [geared] toward problem solving is perhaps most important challenge for any teacher in secondary education."
"I am happy for my students who are motivated to program robots and [delve] into automation because it seems to be that we all are at the threshold of a new age of automation and robotics," said Ege. "Students graduating today are likely to establish the superstructure of the robotics industry of tomorrow."