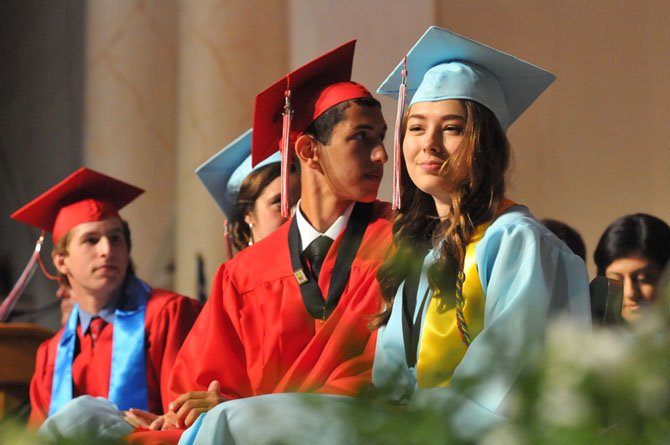 Ryan McElveen knows something about second chances.
The Fairfax County Schools board member talked about hair loss, rejection and motivation during his speech for Marshall High School's Class of 2014 graduation June 18 at Constitution Hall.
The first time McElveen ran for the school board, he was not voted in. However, when the winner of the election was disqualified, he got his second chance and ran for the position again.
"I was given a second chance, and second chances don't come along often in life," he said.
McElveen is a researcher for The Brookings Institution John Thornton China Center and the youngest person to be elected on the FCPS school board.
"Don't sit back and wait for your turn, because your turn may never come," he said.
His stories were all about accepting that rejection will be a part of the students lives, and these students will experience rejection worse than they did in high school - being rejected by their dream school or by someone they had feelings for.
"Grow thick skin, don't take things too personally and ignore the haters," he advised.
The faculty speaker, teacher Dean Wood said the best advice he ever received was to not wish the days away. He also learned - from being in Boy Scouts - to make every place a little bit better than how you found it.
"Don't wish that college started tomorrow," he said. "Don't wish you were all on your own. That's going to come soon enough. Right now, listening to me, your parents are wondering where the days went when you were five years old. Don't wish the days away and don't wish that your real life will start tomorrow."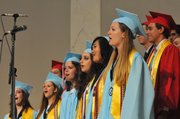 He noted that the now alumnus of the high school are some of the hardest working people he has known, and to not worry about people who pressure them about how the real world will be hard.
"I used to hate it when people would say, 'What are you going to do when you go out into the real world?'" he said. "Believe me, Class of 2014, I've seen you work harder than many of the people I know have been in the alleged real world with. High school wasn't a game for you. It was hard."
He said college is supposed to be hard, and that's what makes it worth it.
"And if it's hard, it's the real world," he said. "Don't let anyone belittle your accomplishments in high school by asking about the real world. This is the real world and you killed it for the last 12 years. You're not about to start the race. You've been running ever since you got up on your wobbling little feet."