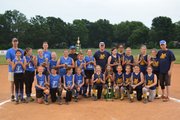 In what proved to be a nail-biting 12U Championship game, the Fort Hunt Mavericks defeated the Fort Hunt Thunder in 5-4 victory in girls fast pitch softball on Sunday, June 8. With the stands packed at Walt Whitman Middle School, the battery of Katheryn Sowell and Charlotte Krell led their fellow Mavericks, coached by Ricky Sowell, to victory.
The Thunder, coached by JP Moery, came out strong and led the game 4-0 through three complete innings of play, with pitcher Katie Jo Moery and catcher Sara Burr leading the way. However, the Mavericks — who maintained the best record throughout the season — rallied in the bottom of the fourth and scored five runs to secure the victory.
The 18U Flying Tigers — who didn't lose a game all season — defeated the 18U Valkyries in a 7-5 win to secure the Championship Title in front of a full house at Sandburg Middle School. Pitcher Annabelle Bates and catcher Jennavieve Miller led the Flying Tigers to victory.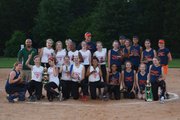 The Valkyries were the first to score, but the Flying Tigers came back strong in the bottom of the second inning, putting five runs up on the board. They were able to maintain their lead for the rest of the game. The battery of Vanessa Arroyo and Shannon McMaster led the Valkyries defense. Ferrin McMaster led the offense for the Valkyries.
Fort Hunt Softball is organized under the umbrella of the Fort Hunt Youth Athletic Association which has been serving the Fort Hunt community since 1959. The mission of Fort Hunt Softball is to provide a quality youth softball program for the Fort Hunt and surrounding communities. Fall softball registration is now open. For more information, visit www.FHYAAsoftball.org.