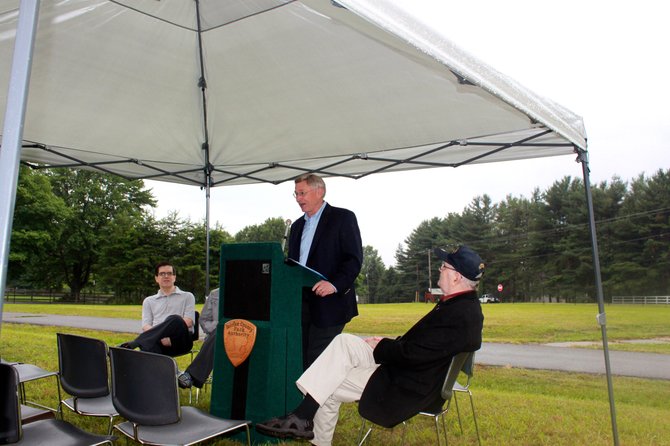 Hoofbeats by day, starlight by night.
That's the way Save the Farm advocate Beverly Bradford wanted Turner Farm Park to end up.
Years after money first began being raised to revitalize the land for a park, the pavilion had a ribbon cutting and the roll-top observatory had its groundbreaking on the drizzly Saturday morning.
"All people long for peace, and this is a place peace outlasted war," she said during the ribbon cutting event.
She said a community center, Colvin Run Elementary and an art studio have all been proposed for the land, but Bradford wanted the park to remain an open space, a place where people could go to seek peace, whether that be by riding a horse or looking up at the night sky.
"None of this would have been possible if we hadn't saved Turner Farm," said Dranesville supervisor John Foust.
As others mentioned in their speeches, he noted that the project was a long time coming for Great Falls residents.
Mike Kearney, board member for Celebrate Great Falls, talked about the birth of CGF and the effort to raise hundreds of thousands of dollars to buy Turner Farm and turn it into a park people will use.
"This is like the end of our chapter here," he said. "We've done our deal."
Great Fall's Analemma Society is also getting a roll-top observatory that is slated to go to construction in late summer to early fall.
Fairfax County Park Authority Board member Mary Cortina talked about her son's interest with space and how he got a chance to talk to a NASA astronaut who sparked his interest in science. She said having an observatory in Great Falls is crucial to getting young people interested in science.
"It keeps that flame alive as they grow older," she said.
The older building on the site, a remotely accessed telescope observatory was used when the land was the Nike Missile Control Site. The new roll-top observatory will have four telescopes permanently aligned toward the North Star, according to President of the Analemma Society Charles Olin.
"The concept of the park itself is not astronomy," he said. "It's basically science."