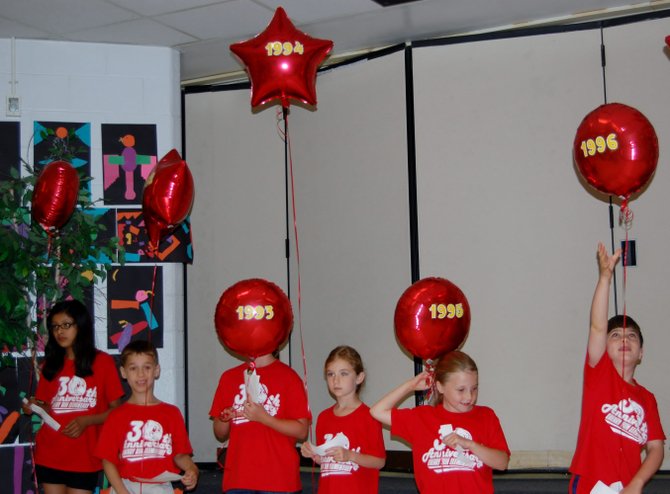 November 13, 1983 was dedication day for Cherry Run Elementary School, located just off Fairfax County Parkway in Burke. Over thirty years later, the school is celebrating its 30th anniversary, remembering years past and celebrating those to come.

After the school's spring band concert, 30 students were each handed a balloon with a year on it. The students then read facts from each year of the school's history, ending with 2013.
Some facts from throughout the years: in 1984, the school had two head start classes. In 1988, the mascot became the cardinals. In 1998, special education preschool began, and the classes had their first spring baseball game, a tradition that still continues to this day. In 2000, Cherry Run had ten Geography Bee finalists. In 2008, Cherry Run celebrated 25 years with drawings done by students and staff. In 2010, Mark Bibbee became principal.
Now, at the end of the 30th school year, students and staff are looking forward to renovations at Cherry Run.
"This is a look at our past and where our school's been and how far it's come," Bibbee said.
Cherry Run was a state-of-the-art school in 1983, Bibbee said.
"We're in a very exciting time because we have a renovation committee, our renovation bond passed in November, and we've already have three iterations of what our new school is going to look like.
Bibbee told the crowd gathered at the celebration that the school is very excited about where it is heading.
"I firmly believe we have the best staff in all of Fairfax County," Bibbee said.