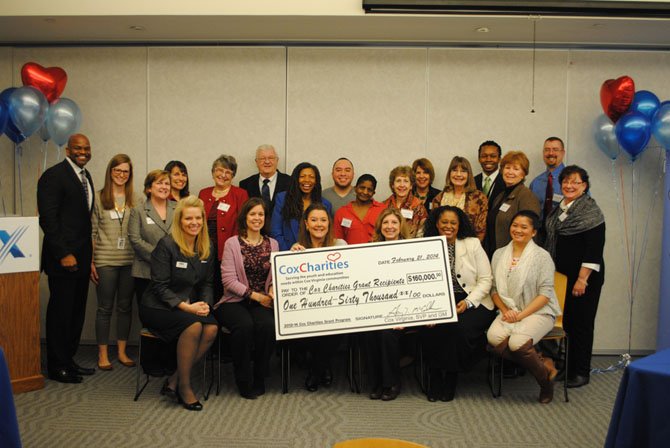 Cox Communications awarded $160,000 in grants to 25 nonprofit organizations in Virginia through Cox Charities grants programs. The grants presented Feb. 21 are part of the nearly $8 million Cox contributes annually through cash and in-kind support to the communities where they do business.
Fifteen nonprofits received grants through the Cox Charities External Grants program and 10 received grants through the Cox Charities Employee Grants program. The External Grants program focuses on non-profit organizations with programs specifically tied to youth, education and technology. Non-profits apply for these annual grants and from those applications, 15 are chosen statewide by an advisory committee made up of community, business and government leaders throughout the state. The Cox Charities Employee Grants program gives Cox employees the chance to nominate their favorite nonprofits for financial support. Winners are chosen by Cox employees, based on popular vote. This year's winners in Northern Vigrinia are:
Fairfax County Park Foundation was awarded $5,000 to support HACAN (Hispanics Against Child Abuse and Neglect. This 20-year program focuses on education for students in the Culmore community of Bailey's Crossroads, Falls Church. This program fosters educational enhancements, building positive connections within the community and connecting with role models.
Literacy Council of Northern Virginia was awarded a $10,000 grant in support of the Family Learning Program. This program is specifically designed for the unique needs of immigrant families, focused on breaking the inter-generational cycle of illiteracy and improving livelihood through reading and comprehension.
Children's Science Center Museum was awarded $10,000 to support the Children's Science Center's Museum Without Walls education outreach program. This grant will support Mobile Labs Family Science Nights, summer mini-labs, community and signature events, as well as preschool and teen programming.
Northern Virginia Family Service received a $10,000 grant in support of the 1-2-1 mentoring program designed to enhance the self-esteem and resilience of middle school aged youth. Through the 1-2-1 program, NVFS is able to reach at-risk students to improve their social and academic skills.
Stafford Junction was awarded a $10,000 grant to fund Brain Builders — an after school program that fosters academic achievement and positive character development and healthy lifestyles. At Brain Builders, students receive help with homework, math and reading skills, and assistance with school projects.
Employee Grants in the amount of $2,000 each were awarded to:
CrisisLink - Crisis Link provides comprehensive crisis prevention, intervention and response programs and now partners with national and state programs to improve its services, including the National Suicide Prevention Lifeline.
Friends of Homeless Animals – Friends of Homeless Animals (FOHA) is a non-profit, no-kill shelter that focuses on the rescue and placement of homeless dogs and cats in the Northern Virginia and Washington DC area.
Lost Dog & Cat Rescue Foundation - Since 2001, Lost Dog and Cat Rescue has saved the lives of thousands of homeless and abandoned pets from euthanasia in overcrowded shelters by placing them for adoption in loving homes.