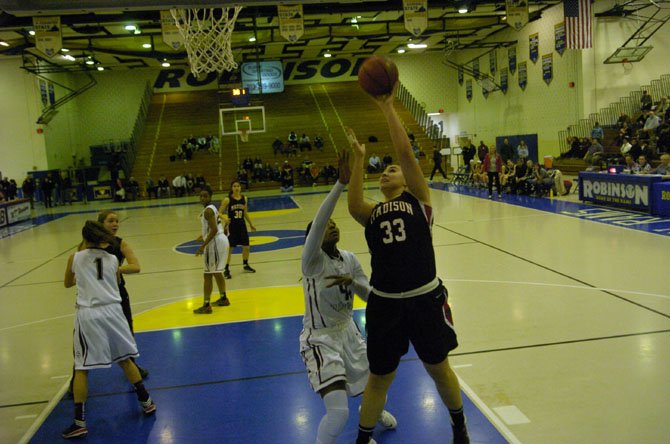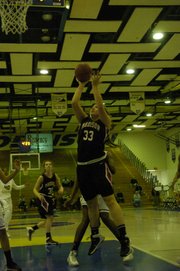 The Madison girls' basketball team's season had ended and Kelly Koshuta stood teary-eyed inside Robinson Secondary School, saddened that she had played with her senior teammates for the final time.
Koshuta, a 6-foot-2 junior, did all she could to extend the Warhawks' season, but a career-high 39 points and 19 rebounds weren't enough to beat Stonewall Jackson, which defeated Madison 78-72 during the 6A North region semifinals on Feb. 27. The Warhawks finished one win shy of reaching the region championship game and securing a state playoff berth.
While Koshuta fought back tears during a postgame interview, she was more than happy to talk about the talented athlete she battled during Thursday's contest. Stonewall Jackson senior Nicole Floyd, a 6-foot-2 post who signed with Wake Forest, scored 32 points against Madison. Floyd's versatile skillset --- her ability to drive to the basket, produce in the paint and knock down 3-pointers --- helped her score 18 points in the first quarter and 10 in the fourth, when the Raiders were holding off a late Warhawks rally.
"She's a great person to play against," Koshuta said, "and she did amazing today."
But Floyd was more than just a quality opponent and an on-court challenge for the Madison standout. Koshuta admires Floyd as a talented athlete who battled the same kind of adversity she faced.
IN THE SUMMER OF 2010, prior to her freshman year, Floyd tore the ACL in her right knee. She returned near the end of the season, helping Stonewall defeat West Springfield in the state semifinals before the Raiders lost to Princess Anne in the championship game.
Two years after Floyd suffered a torn ACL, Koshuta tore the ACL in her left knee during an AAU game prior to her sophomore season. Koshuta sat out the entire 2012-13 campaign and the Warhawks were eliminated in the region quarterfinals.
"She's amazing. She's my idol. She tore her ACL, too. She recovered from it. I watched her recover and I love that.

--- Madison junior Kelly Koshuta
As Koshuta worked her way back onto the court, she spoke with Floyd, who she knew through AAU ball, about returning from an ACL injury. Floyd explained the need for hard work and remaining mentally strong.
"[Koshuta] came up to me [and] she asked how long it took for me to get back and I told her it took me a full eight, eight-and-a-half months," Floyd said. "She said she was just getting back and I told her just take it slow. It's a tough, terrible injury to have. It's a terrible process, just keep rehabbing."
Koshuta spoke highly of Floyd.
"She's amazing. She's my idol," Koshuta said. "She tore her ACL, too. She recovered from it. I watched her recover and I love that. When I [injured] mine I actually talked to her about it and it was great. Seeing her recover is amazing. She's going to Wake Forest and that's a great accomplishment."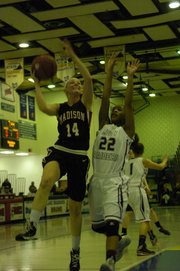 Floyd appeared flattered when informed Koshuta referred to the Stonewall star as her "idol."
"That's really good to hear," Floyd said. "I always want to set a positive example for somebody else looking up to me; what they can do as a player, and not just as a player, [but] as a person off the court, also. That's a great thing to hear form an opponent, especially after a big game like this."
Floyd and Koshuta both performed well during Thursday's "big game," and Floyd did so while battling the flu. Floyd's 18 first-quarter points, including a pair of 3-pointers, helped Stonewall build a 25-17 lead by the end of the period.
"Kelly did the best she could on defense," Madison senior guard Katie Kerrigan said. "Nicole, give a lot of credit to her, she has the flu, but she was still knocking down those shots. She would not miss. Kelly did a good job. She did all she could do."
The Raiders led 43-27 at halftime and extended their advantage to 18 points early in the third quarter. But Madison refused to give up, and Koshuta led the Warhawks on a comeback. Koshuta scored 16 points in the third quarter, helping Madison cut Stonewall's lead to 57-50 entering the fourth quarter.
Floyd, who produced just four free throws in the second and third quarters combined, responded with 10 points in the final period as the Raiders tried to hold off the Warhawks. But Madison kept pushing and trailed 71-69 when Koshuta made a pair of free throws with 40.1 seconds remaining.
"I think that they played really tough," Madison head coach Kirsten Stone said. "I was proud that they came back from the [18-point deficit]. I think that takes a lot of gumption, a lot of strength. I'm really proud of them."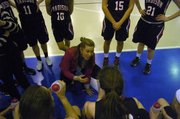 While Madison cut Stonewall's lead to two twice during the final minute, the Warhawks would get no closer as the Raiders scored seven of the game's final 10 points.
Sophomore guard Aidan McWeeney scored 13 points for Madison, including a trio of 3-pointers. Kerrigan finished with 12 points and sophomore Alexis Hermes added six.
DESPITE LOSING its first four games of the season, Madison ended the year with a 19-9 record and finished runner-up in Conference 6. After a loss to South Lakes on Jan. 10, Madison responded by winning its next 12 games and 14 of its final 16.
Stone, the region Coach of the Year, figures to have a strong team next season. Kerrigan was Madison's only senior starter Thursday night, and Koshuta, a first-team all-region selection, figures to be even better.
Plus, Floyd will have graduated, improving the chances of Koshuta crying tears of joy at regionals in 2015.
"We're going to come back stronger," Koshuta said. "That's my second time losing in the [semifinals] and next year I'm not ending my last high school game in the [semifinals]. We're going to go all the way --- that's the plan."