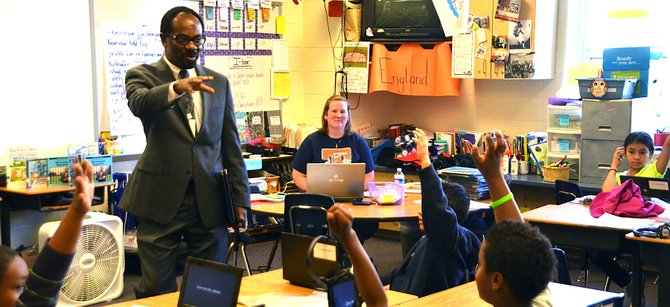 Turns out, the national search for a new superintended wasn't able to find a candidate as good as the guy who is already sitting in the chair. Last week, members of the Alexandria School Board offered the job to interim Superintendent Alvin Crawley. The move marks the conclusion of a search that began when former Superintendent Morton Sherman unexpectedly resigned after months of turmoil at the school division's Beauregard Street headquarters.
"I am unequivocally honored to have this opportunity," said Crawley. "As superintendent, I plan to continue to be very visible, responsive and accountable to all ACPS stakeholders. We have begun serious, thoughtful efforts to enhance the educational experience for our students, and I will work tirelessly to continue to move this division forward."
Crawley is taking control of a school division with about 2,000 employees, an organization that employs about 3 percent of the city's population. It has an average teacher salary of $74,000 and spends about $17,000 per pupil for 13,000 students. The division has 12 elementary schools, five middle schools (to be restructured back into two), one high school and three alternative schools. Since becoming the interim superintendent in October, Crawley has impressed board members who have the final say on who is hired to lead the city's public school system.
"We got the right person," said School Board member Pat Hennig. "He's calm. He's professional. He's a listener. And he's very good at what he does."
BEFORE COMING TO ALEXANDRIA, Crawley served as the interim superintendent of Prince George's County Public Schools. He spent most of his career in education in Arlington Public Schools, where he held top roles including assistant superintendent for student services and director of special education. People there recall him as a hard-working and dedicated leader.
"I think Alvin Crawley is perfect for Alexandria, and I've been telling people in Alexandria that for months," said Arlington County Board member Libby Garvey, who was a longtime School Board member. "His temperament and character are probably better suited to Alexandria than Mort."
Sherman often clashed with city leaders, especially over budget issues. Those conflicts escalated in the spring of 2012, when an auditor's report described a dysfunctional environment in the school system's budget office. Vice Mayor Kerry Donley called for Sherman to resign, although the embattled superintendent held his ground for another year. Then, in September 2013, members of the School Board emerged from a closed-door meeting and declared an end to the era of Morton Sherman.
"Everyone will recall that a previous superintendent, Rebecca Perry, was bought out of her contract," said School Board member Marc Williams at the time. "This will make Dr. Sherman the second superintendent in a row to be bought out. What a perverse recruitment model."
NOW, SCHOOL LEADERS say that Crawley will bring a new sense of leadership to the city's public school system — a division that has some very serious challenges on the horizon. Perhaps the most pressing is the possibility that state leaders will seize control over Jefferson-Houston School, which has been designated as a failing school because of years of low test scores. School Board members say he has the right temperament to handle that issue and others.
"Since Dr. Crawley arrived in Alexandria, he impressed us with his calm, collaborative and positive style while working towards solutions that are best for all our children," said Karen A. Graf, School Board chair. "Our board unanimously selected Dr. Crawley from a pool of top candidates and we are thrilled to have him lead ACPS."
BWP & Associates identified a total of 56 applicants, including 26 sitting superintendents. Six were recommended to the School Board, and four were interviewed before Crawley was ultimately selected.
"This was one of the strongest and largest applicant pools we have ever worked with," said search consultant Kevin Castner. "Dr. Crawley rose to the top of the well qualified group of applicants to earn the superintendent position."