The Center for Alexandria's Children, a pub
Photo Gallery
Gala Raises $125,000 for Center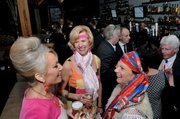 Click Photo for Flash
lic-private partnership that serves abused and neglected children, raised a record $125,000 in proceeds at its Fifth Annual Gala Benefit on Friday, Feb. 28, at Virtue Feed & Grain in Old Town. The event honored Alexandria business and community leaders Nigel and Lori Morris and Deputy City Manager Debra Collins for their exceptional dedication to improving the lives of Alexandria's children.
Nigel and Lori Morris received the 2014 Champion for Children Award for their vision and work in founding and ongoing contributions to the center. As chairman of the board of the center from 2006 to 2013, Nigel Morris played a crucial role in the center's growth and development. Leading the center's Playgroup Steering Committee, Lori Morris coalesced early care and education experts to create the Learn and PlayGroup Curriculum, which is currently being piloted and evaluated across all the center's playgroups.
Alexandria's Deputy City Manager Debra Collins received the Center's 2014 Outstanding Dedication to Children Award for her commitment to improving the lives of Alexandria's at risk children. She was on the forefront of bringing a child advocacy center national model to the city, securing initial funding and establishing protocols and procedures. When the Center for Alexandria's Children opened its doors in 2006, Collins facilitated the creation of a Multi-Disciplinary Team across numerous city agencies that work together to investigate, prosecute and treat victims of child abuse and neglect.
The center's gala benefit drew a capacity crowd of 300 people. Featuring a British Invasion theme, attendees were photographed in front of a British MINI Cooper, courtesy of Passport MINI of Alexandria. The gala also featured a silent auction and raffle, as well as a Be A Star booth where patrons purchased toys and needed items for the center.
For more information, visit www.centerforalexandriaschildren.org