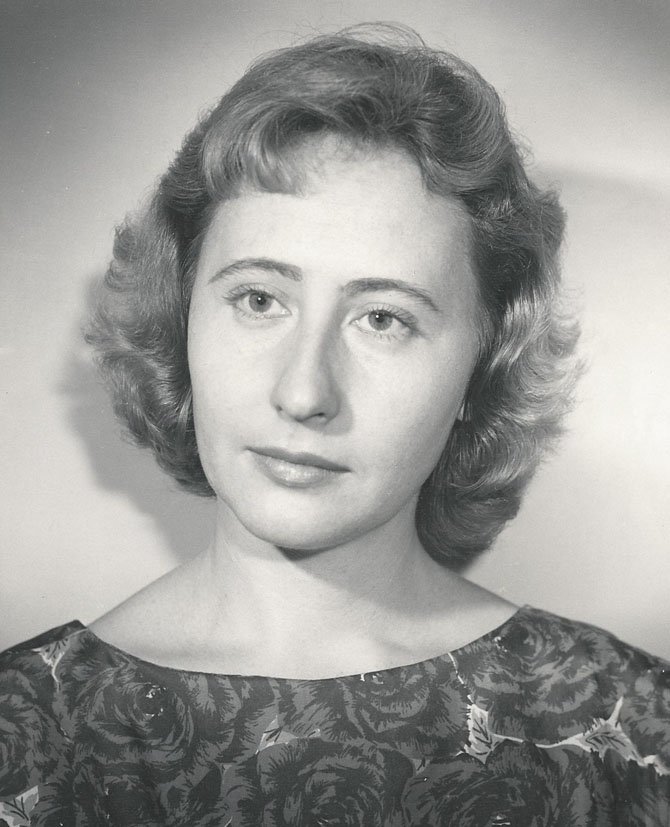 Magdolna Iranyi-Gondor M.D., beloved pediatrician to thousands of children in the Alexandria area, died on March 8, 2014 after a long battle with cancer. Her career spanned five decades and touched the lives of several generations. She was always outgoing and interested in other peoples' lives, but many are not aware of her background.
Born in Budapest, Hungary in 1928, Magdolna showed early signs of interest in the sciences. For instance, while still in elementary school, her mother once discovered, to her horror, that young Magdolna was chopping up worms with her good kitchen knife in order to observe that the remaining segments continued moving even after the dissection.
In her childhood, the educational system in Hungary demanded that students choose their area of study when they complete elementary school. By then Magdolna knew she wanted to pursue medicine. At the age of 11, she took the initiative to apply to one of the most demanding "gymnasiums" in Hungary. To her parents' surprise, she was admitted to the eight-year program (which is the equivalent of both middle and high school).
Life in Hungary during the World War II years was turbulent. During air raids Magdolna and her mother were frequently forced to run to safety in community shelters. Once when they returned they found an entire wall of their home missing, destroyed by the bombing. Her mother, also named Magdolna, was a strong woman who always showed great resolve. She set to work salvaging what was left of their home and eventually rebuilt. Magdolna's devoted father, Tihamer, served on the Russian front during the war, where cold, hunger and inadequate supplies took men's lives daily. He returned frail and deathly ill, but was nursed back to health by his wife and daughter, even though goods were rationed and nutritious food hard to find.
In 1947 Magdolna began a six-year program at Semmelweis Orvostudomanyi Egyetem, a medical university in Budapest, from which she graduated in 1953. Medical research was Magdolna's driving passion and her Curriculum Vitae includes numerous research papers for which she collaborated through the Physiological Institute of the Medical University of Budapest between 1951 to 1956. Her early work was punctuated with three stints of mandatory military service in which both her medical skills and facility with languages were put to the test. In addition to her native Hungarian, Magdolna was fluent in English and German and had a working knowledge of Russian.
1956 marked a dramatic turning point to her life. Oct. 23, 1956 was the start of the Hungarian Revolution and by early November, the Hungarian government had collapsed. Soviet troops entered the country firing upon protestors and more than 200,000 Hungarians fled the country as refugees. Magdolna and her mother were among them. In the winter of '56, as part of a group of about a dozen refugees, they escaped through the mountains of Austria with the help of humanitarian organizations. Her ordeal ended on Christmas Day, Dec. 25, 1956, when they finally entered the U.S. with nothing but the clothes on their backs but ready to begin new lives and enjoy freedom. She and her mother moved to Maryland where Magdolna worked as a visiting scientist at The National Institute of Health, researching neurological diseases and blindness. Her father was eventually able to join them in the late 1960s.
She met Leslie P. Gondor M.D. again in the late 1950s. Their first meeting was actually many years earlier in Hungary, when young Leslie was a composer of music — a hobby he pursued while studying medicine. He was quite talented with several popular 1940's hits to his credit. Magdolna and her mother were one of many fans when they first met at a concert, then their paths crossed occasionally during her medical studies. Until they were reintroduced in the U.S., however, they were only acquaintances. After that, they fell in love and married in 1959. Leslie convinced her to combine her love of children with her medical training and go into pediatrics, where her talents blossomed.
Leslie and Magdolna started the Bradlee Family Medical Center in the early 1960s. For decades they adhered to a firm policy that no appointment was necessary to be seen by the doctors. Their son L. George Gondor, M.D. joined the practice in 2000.
Magdolna's compassion and devotion to each child's health was the hallmark of her practice. For example, long after most doctors used answering services for after hours calls, Magdolna kept an answering machine on her nightstand, monitoring nighttime calls and often picking up the phone to help if she could be of assistance. She maintained active privileges as an attending physician at both Alexandria Hospital and Jefferson Memorial Hospital, where she was the emergency room pediatrician on call year-round for 25 years. Unselfish in sharing her knowledge, she also took time to teach both physician assistants and medical students from George Mason University and East Virginia School of Medicine in their pediatric clinical externships.
It is no surprise that patients she treated when they were young, later brought their children as well as, in some cases, even their grandchildren to be seen by her. At least three patients attribute their decisions to study medicine directly to her influence on their lives; two are now practicing pediatricians.
In lieu of flowers, the family requests donations be sent in the memory of Magdolna Iranyi Gondor M.D. to The American Cancer Society, PO Box 22718, Oklahoma City, OK 73123-1718 or online at: https://donate.cancer.org.