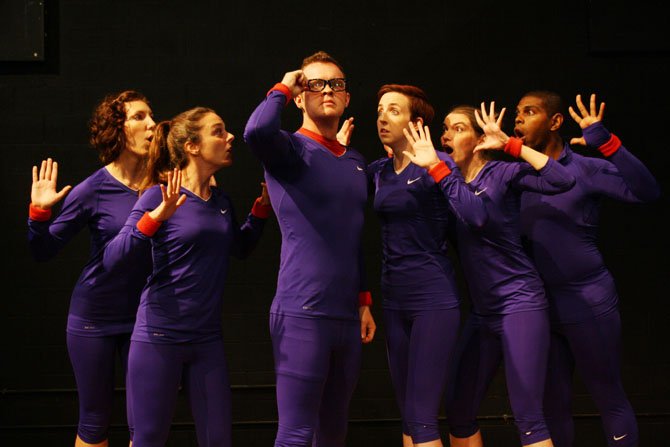 Where and When
"Superman 2050" at the Alden Theatre, McLean Community Center, 1234 Ingleside Road, McLean. Performance Saturday, March 22 at 8 p.m. Tickets are $20/$15 MCC district residents. Call 703-790-0123 or visit: www.mcleancenter.org
That iconic comic-book super-hero Superman is coming to the McLean Community Center. He is ready to save the day from his foe Lex Luther. Superman and the gang will be live and in person as performed by Theatre Unspeakable in the new "Superman 2050."
"The moment I saw 'Superman 2050' at a conference in Philadelphia last year I knew I had to book them for the Alden. The show is just so unique," said Kathleen Herr, director of Youth Programs, Alden Theatre, McLean Community Center.
Staging the Superman adventure as live theater seems rather unlikely. Now picture seven actors performing a Superman adventure on a stage that is just 3-by-7 feet of space and about two feet in the air. This is the inspired theatrical imagination behind the production that Chicago's inventive Theatre Unspeakable is bringing to the Alden.
According to Marc Frost, Artistic Director, "Theater Unspeakable is dedicated to telling stories using the entire body, mind, heart and soul...combining elements of movement, dance, mime, circus and clown."
"We want to awaken our audiences' imagination as Superman battles the likes of Lex Luther and flies about the tiny stage. We want to provoke them into coming along with us in our story set in a fictional 2050 Metropolis," said Frost. All of this while the actors challenge themselves to bring a comic book adventure to life.
The hour--long show "will bring a fresh, choreographed fun way to tell the Superman story. There will be plenty of movement on the tiny space including Superman flying," said Frost. It is meant for all ages.
"Superman 2050" tells the story of the battle for the future of Metropolis and a high--speed rail network. It will be live action anime; a comic book come alive into three-dimensions as the cast uses their bodies, lots of movement and their voices to create props, scenes, and sound effects.



So get ready. The show will bring the Superman you remember from your childhood, with some new twists for you and children of all ages. He will always be "faster than a speeding bullet, more powerful than a locomotive, and able to leap tall buildings in a single bound."
"Come prepared to laugh and be amazed!" added Herr. Always remember, don't mess with Superman or his cape. Just join the fun and bring your childhood along with you.