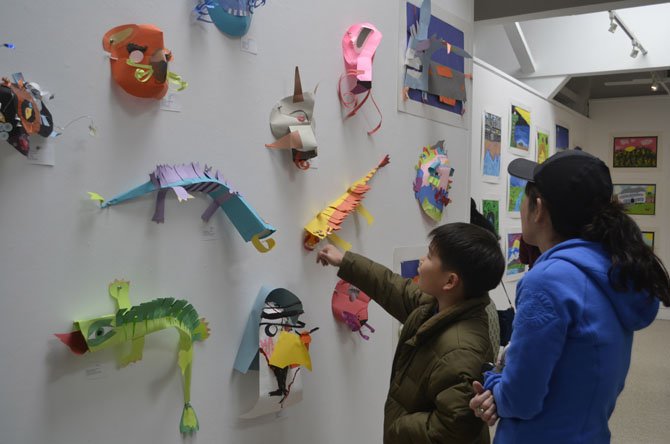 Over three decades ago the McLean Project for the Arts began lining its gallery walls with artwork from the Mclean youth and 33 years later, the tradition has continued on as the gallery's annual Youth Art Show. Saturday marked the opening reception of the youth art exhibition at the McLean Community Center that featured the artwork of hundreds of students from eight McLean elementary schools.
"I'm always so impressed at the quality of the art," said MPA's Executive Director Nancy Perry who has helped coordinate the annual Youth Art Show for 11 years. "The expression of the younger children is so free and they're willing to experiment."
Students, parents and teachers filled the exhibition room, slowly making their way past the walls covered with bright paintings, animated clay sculptures, neon print collages and paper figures folded into faces and animals.
Amabell Rouhani, 11, a sixth grade student from Spring Hill Elementary and second-time Youth Art Show participant, was eager to show off her painting of her family trip to Kings Dominion Amusement Park.
Rouhani credits her art teacher Carolyn Gore-Ashe, a Spring Hill teacher of 10 years, for helping her and her classmates think of creative ideas to make their artwork. "I was happy that she found something special in mine," said Rouhani. For an hour once a week, Rouhani and her classmates meet with Ashe who shows them pictures of different styles of artwork, and how to apply the best techniques to create their work.
"It's very exciting that students have access to a professional gallery," said Ashe. "It helps teach children how to look around and see the world, and it gives them a sense of place."
But even though art is a core discipline at Fairfax County public schools, MPA Executive Director Power still thinks that art needs more recognition in education. In addition to providing after school art workshops for students and bringing in professional artists into classrooms to talk to students about their work, MPA tailors what students are learning in the classroom to its exhibitions. This year, the gallery featured an exhibition where artists used pieces of recycled scrap to make art, and aligned the exhibit with what students were learning in the classroom about science, technology, engineering and mathematics. "You can integrate the arts with any subject," said Power.
Robert Fuqua, principal of Chesterbrook Elementary says that art can play an integral part in a student's academic development. "Art is a part of academic curriculum," said Fuqua. "Learners have different gifts and it's our responsibility to bring them out." A Chesterbrook mother of an art exhibit participant Tracie Becker, said that art class was a great outlet for her daughter this year, and that she hopes the Fairfax County budget will continue to make the arts a priority in the county's education.
The Elementary School Artist exhibition will run until March 15, and the Middle and High School Artist exhibition will run from March 20 through April 5.