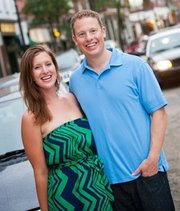 Michele and Alan Zinn of Springfield announce the engagement of their daughter, Amanda Rosemary to Stephen Thomas Boyd both of South Boston, Mass. Steve is the son of Marian and Walter Boyd of Greenfield, Mass.
The future bride graduated from Robert E. Lee High School in Springfield, College of William and Mary, and from Boston University with a Master's in Public Health. She is project manager in the Patient and Quality Group at Boston Children's Hospital.
The future groom graduated from Greenfield High School and the University of Massachusetts with a Bachelor's in Business Administration. He is Director of Relationship Management and Product Implementation at Fidelity Investments in Boston.
A May 2014 wedding is planned.
More like this story