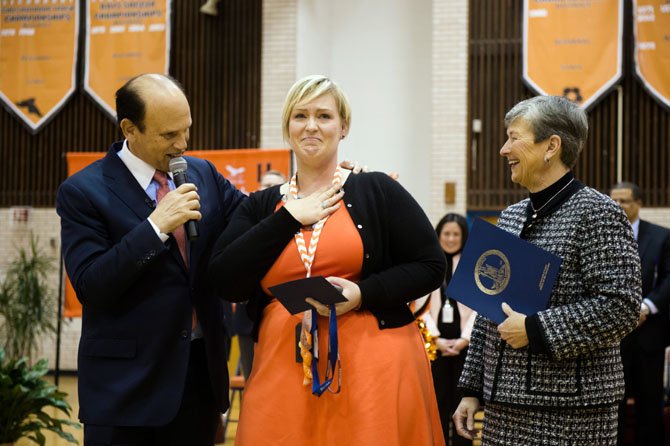 Elizabeth Galinis, a geosystems and AVID (Advancement Via Individual Determination) teacher at Hayfield Secondary School, has been named a winner of the Milken Educator Award by the Milken Family Foundation. Galinis is one of up to 40 educators nationwide selected to receive the award along with a $25,000 unrestricted cash prize. The announcement was made at a surprise assembly by Mike Milken, co-founder of the Milken Family Foundation, and attended by Patricia Wright, state superintendent of public instruction.
Nominees for the Milken Educator Awards are recommended by a state blue-ribbon panel; identification and selection procedures for each award are confidential. The awards recognize individuals who exhibit exceptional educational talent as evidenced by student achievement and instructional practices, outstanding accomplishments beyond the classroom and long-range potential for professional leadership, and the ability to engage and inspire students and colleagues.
A former administrator at the National Academy of Sciences, Galinis switched careers to become a classroom teacher. Currently, she teaches six sections of geosystems, including one honors class, team-teaches the AVID class, serves as freshman class sponsor, and mentors students in an after-school program. She also serves as the leader of the Hayfield collaborative learning team (CLT), where she provides advice, support, and leadership to her colleagues.
"Elizabeth is an outstanding teacher whose energy, skill, and relentless pursuit of creative ways to engage her students are nothing short of phenomenal," says Phyllis Pajardo, assistant superintendent for human resources. "She cleverly uses life experiences, pop culture, and student interest to make her lessons relatable and meaningful. Students say her class is one of the 'must takes' at Hayfield."
Galinis is known for making the extra effort to build positive relationships with even the most challenging students, and to deliver relevant lessons that connect with her students' lives. Her ability to tailor her lessons to different learning styles, emphasize hands-on learning, and integrate technology into her lessons have translated into high scores on Virginia Standards of Learning (SOL) exams for her students. In addition to serving as a classroom teacher, Galinis provides homebound instruction to her students who cannot attend school.
Hayfield Secondary principal Dave Tremaine says that he asks Galinis to sit on interview panels to bring her insights and expertise to the table. "She is high energy, respects others' views, disagrees in positive ways, and displays loyalty," says Tremaine, who adds that she is always looking for ways to enhance her teaching.
A finalist for the FCPS 2013 Teacher of the Year, Galinis earned her bachelor's degree in marine science from the University of South Carolina; a master's degree in environmental science and policy from Johns Hopkins University; and a master's degree in education, curriculum, and instruction from Virginia Tech.