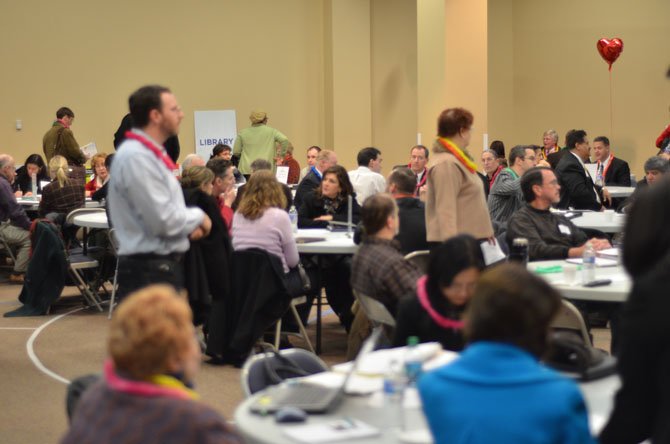 In the metro D.C. area, job clubs and networking events have been long used as tools for persons on the job hunt. One weekly job event that has grown over the years is the Career Network Ministry, hosted at McLean Bible Church at 8925 Leesburg Pike, Vienna. "I hate to see our ranks grow, because it means so many are unemployed," said Mallard Owen, "yet I also think it is a shame that there are not more of these groups across the country." A resident of Ashburn, Owen does not attend McLean Bible Church, yet has helped with operations at the Career Network Ministry (CNM) for approximately five years.
Bob Korzeniewski, a former executive of leading technology companies, devotes an extraordinary amount of time to leading CNM. "I was lucky to retire at the end of 2007, and I really felt compelled to work in the nonprofit area," said Korzeniewski, a resident of Great Falls and member of McLean Bible Church. "After I retired, I was going to a men's Bible Study and I saw a sign for the CNM, and I saw there was a small classroom and fifteen or so people in the class." The career ministry had need of a new leader, and persons running the session thought Korzeniewski was an excellent candidate.
SINCE THEN Korzeniewski and a team of volunteers have developed the career ministry into an outreach for entire community. Volunteers help counsel the unemployed in the new skill sets needed to land a job in the competitive job market. Approximately 150 to 200 people drive in throughout the D.C. metro area to attend every Tuesday night. A 6:30 p.m. to 7:30 p.m. resource hour offers career support at tables manned by alumnae and members covering various dimensions of the job search.
"The more gratifying part is when people share stories of how they have found love in the environment, that we care about them, in times when they are going though very challenging transitions periods. We got some amazing volunteers who really care," said Korzeniewski. The career ministry is at least 20 years old, but has developed into an outreach for the community. "The way I discovered the Career Network Ministry was I was undergoing a job transition and I attended CNM and popped in a couple of times," said Owen.
CNM draws from local and nationally known speakers to host workshops on Tuesday evenings and main forum talks at 8 p.m. Workshops and presentations provide practical and inspiring content, from resume writing and interviewing skills to franchising, finance, wellness and life planning. Dozens of volunteers provide informal advice on many topics now including software training hosted by volunteers in collaboration with area Microsoft stores.
Word of the CNM ministry's success won praise from former Secretary of Labor Hilda Solis. "This community has its act together," said Secretary Solis at a 2011 Tuesday meeting at the Career Network Ministry at McLean Bible Church. In January of 2014, Owen and associates from CNM met with Secretary of Labor Thomas Perez. They shared their stories about struggling to make ends meet while being out of work for extended periods of time.
In addition to providing networking support, training in the latest social media tools such as LinkedIn, the ministry provides emotional and spiritual counseling that is available to all members of the community. "It is such a caring group, it is really about having a support group that understands what you are going through," said Owen. "We are not psychologists, but we provide a feeling of welcoming and care."
TO LEARN MORE about the next CNM event, visit www.meetup.com/mbc-cnm/