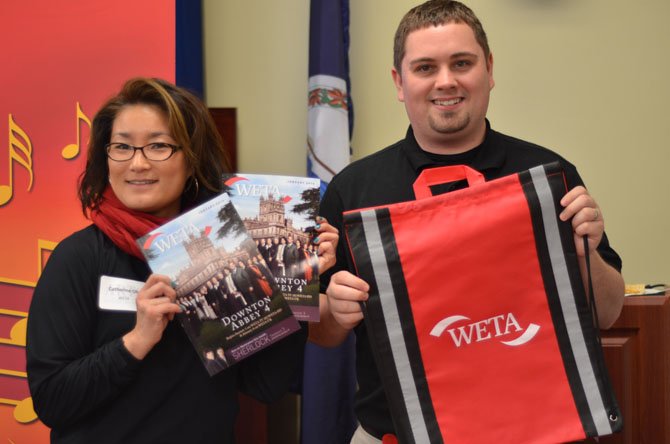 Students and alumni of George Mason University had the opportunity to attend an internship and career fair with a focus on the entertainment and consulting sectors. This event was held in February at the Fairfax campus at Mason Hall, hosted by the George Mason's College of Visual and Performing Arts Alumni Chapter and University Career Services. "We have 23 employers attending," said Ryan Braaten, assistant director of development with the College of Visual and Performing Arts at George Mason University.
"I heard about this event in my class," said student Samantha Guile, a resident of Alexandria, who is graduating the summer of 2014 with a degree in Art History. "I decided to come see if there was a fit for me."
George Mason University offers an undergraduate and masters degree program in their College of Visual and Performing Arts (CVPA). The Patriot Center, located just outside of the City of Fairfax, hosts a number of concerts and shows. Also nearby is the George Mason Center for the Arts, a major year-round arts venue in Fairfax County.
"We have held this event for nine years," said Braaten.
Organizations which attended this year's event included Ford's Theatre, CACI, the Shakespeare Theatre Company, Fairfax Symphony Orchestra, and the Potomac Arts Academy. Baron Pugh, resident of Centerville and employee at George Mason University was at the career fair. "Last year I spoke with Ford's Theatre, and they offered me a position as a lighting and design intern," said Pugh.
Michael Walter and his associate Catherine Oh attended the career event to speak about the WETA internship program. WETA Television and Classical WETA 90.9 FM are community-based public broadcasting stations serving the Washington area, supported by listeners and viewers. "We have a pretty robust internship program," said Walter, a resident of Alexandria. "All of our work at WETA is for the betterment of the community." Two guest speakers also present were crowd funding consultant Jennifer Storm and marketing director Brandt Heatherington.
Northern Virginia has an active artistic community, yet the overall economy has affected the development of art programs and outreach. Yet some students, including Guile remain optimistic. "If I do not find a door to walk through, I will make my own," said Guile.
To learn more about the George Mason University's College of Visual and Performing Arts, visit cvpa.gmu.edu.