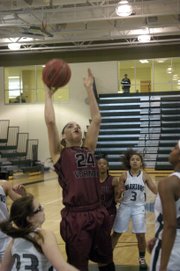 Mount Vernon seniors Samantha Porter and De'Ja "DJ" Jeanpierre traveled different paths to arrive at this point.
Porter spent four seasons with the Mount Vernon varsity girls' basketball program, surpassing 1,000 career points along the way. Jeanpierre played her freshman and sophomore seasons at Hattiesburg High School in Hattiesburg, Miss., and her junior year at Thompson High School in Alabaster, Ala., before moving to the Mount Vernon area for her senior year.
Together, Porter and Jeanpierre led the Majors to the state tournament in 2014, a destination that talented Mount Vernon teams of the recent past failed to reach. The Majors produced a 22-7 record and finished Conference 13 and 5A North region runners-up. Mount Vernon lost to eventual champion Princess Anne 65-57 in the 5A state semifinals. Princess Anne reached the state championship game for the sixth consecutive season.
"I'm very proud of my team and everything that we accomplished this season," Porter wrote in an email. "We made it further than anyone expected us to and we overcame so much adversity during our season."
Along the way, Porter earned first-team all-conference and first-team all-region honors. She will play college basketball at Christopher Newport. Jeanpierre was named first-team all-conference and second-team all-region. She will play at Barton College. On Sunday, Porter and Jeanpierre will be teammates one final time.
Porter and Jeanpierre will play for the East squad in the 10th Suburban Classic girls' basketball all-star game on March 23 at Oakton High School. The game features some of the top seniors from the 6A North and 5A North regions. There is a 3-point shootout at 2 p.m., followed by the main event at 3 p.m.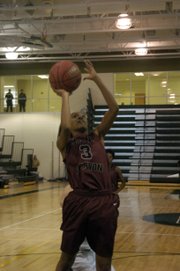 "I'm looking forward to playing with some of my teammates again, both past and present," Porter wrote. "I'm really excited to play with DJ one last time before we go off to college."
While Porter and Jeanpierre played just one season together, they built a basketball bond.
"I am excited to be a part of the all-star game," Jeanpierre wrote. "Outside of the fact that I get to play in one more organized game before college, I'm most excited to be back on the court with my 'right hand' Sam.
"Sam and I have created a bond on the court that I've never had with any other teammate. As captains this season, we made many big decisions together, hence she's my right hand."
The East team is led by Edison head coach Dianne Lewis. The rest of the East Roster includes: Tykera Carter (T.C. Williams), Angie Schedler (T.C. Williams), Amy Berglund (West Springfield), Amber Bryson (Lee), Tatiana Torres (Edison), Michelle Noel (Wakefield) and Cami Prock (McLean).
The West team is led by Madison head coach Kirsten Stone. The roster includes: Abby Rendle (South Lakes), Caitlin Jensen (South Lakes), Jenna Green (Centreville), Katie Blumer (Centreville), Bailey Dufrene (Osbourn), Arnelle Collins (Freedom-South Riding), Katie Kerrigan (Madison), Kayla Hix (Stonewall Jackson), Nicole Zubovich (Freedom-South Riding) and Alexia Johnson (Broad Run).
Admission is $5, with senior citizens and children younger than 5 admitted for free. Proceeds help to fund the Northern Virginia Women's Basketball Coaches Association scholarship program.