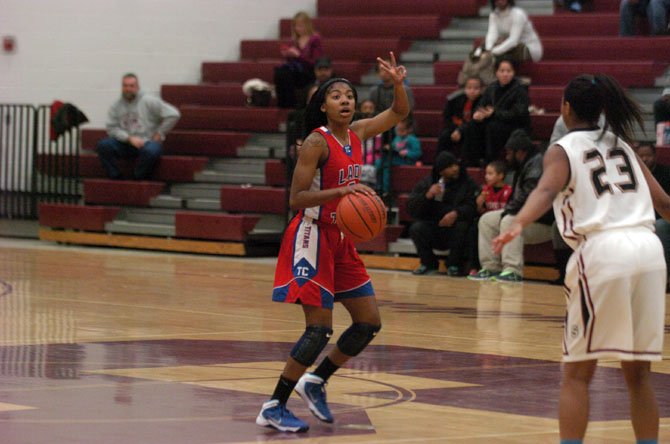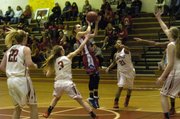 The T.C. Williams girls' basketball team overcame an 11-point second-half deficit, only to lose a late lead against Stonewall Jackson in the region quarterfinals on Feb. 25. The Titans ended their season with a 51-47 loss to the eventual region-champion and state-runner-up Raiders in Manassas.
One month after ending their high school careers in disappointing fashion, T.C. Williams seniors Tykera Carter and Angie Schedler get to be teammates once again.
Carter and Schedler, who were each first-team all-Conference 7 selections, will suit up for the East squad in the 10th Suburban Classic girls' basketball all-star game on Sunday, March 23 at Oakton High School. The game features some of the top seniors from the 6A North and 5A North regions. There is a 3-point shootout at 2 p.m., followed by the main event at 3 p.m. Carter and Schedler will each compete in the 3-point shootout.
"Playing in this game means a lot to me," Schedler wrote in an email. "Not only is it an honor for me being recognized, but I'm playing with and against girls I've been playing against since I was little. So it's like the perfect ending to a new beginning.
"Tykera and I have gotten so close this year that this game will just be fun for both of us to experience together. We look forward to any chance we have playing together on the court."
The East team is led by Edison head coach Dianne Lewis. The rest of the East roster includes: Amy Berglund (West Springfield), Amber Bryson (Lee), Tatiana Torres (Edison), Michele Noel (Wakefield), Cami Prock (McLean), Samantha Porter (Mount Vernon) and DJ Jean Pierre (Mount Vernon).
"I'm looking forward to playing with and against some of the best northern Virginia basketball players, and I'm looking forward to a fun, yet competitive atmosphere," Carter wrote in an email. "It's really special to be able to play with Angie one more time because I feel like we formed a great bond this season as friends and teammates and I enjoy playing with her."
Carter was also an all-region selection.
The West team is led by Madison head coach Kirsten Stone. The roster includes: Abby Rendle (South Lakes), Caitlin Jensen (South Lakes), Jenna Green (Centreville), Katie Blumer (Centreville), Bailey Dufrene (Osbourn), Arnelle Collins (Freedom-South Riding), Katie Kerrigan (Madison), Kayla Hix (Stonewall Jackson), Nicole Zubovich (Freedom-South Riding) and Alexia Johnson (Broad Run).
Admission is $5, with senior citizens and children younger than 5 admitted for free. Proceeds help to fund the Northern Virginia Women's Basketball Coaches Association scholarship program.