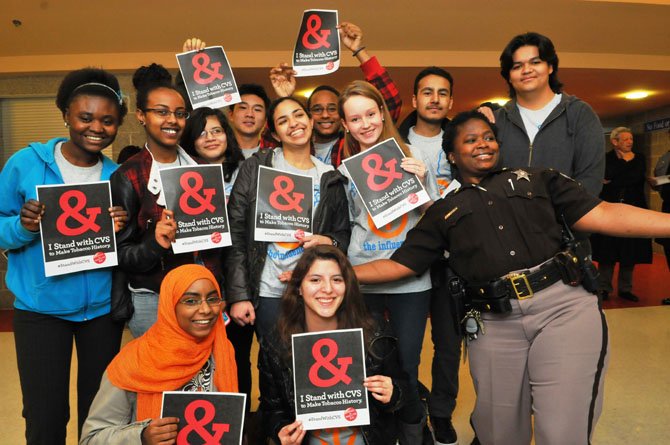 Nearly 30 members of the Influence Club at T.C. Williams High School participated in a walking tobacco audit of local stores on March 19. Alexandria Mayor William Euille, Alexandria Police Chief Earl Cook and Emma West, president of the Influence Club, kicked off the afternoon program with a press conference in the school lobby. Then the students broke into teams and were accompanied by an adult to multiple local stores in the city.
The audit consisted of counting the number of tobacco products, beer, wine, Alco-pops and caffeinated malt beverages ads and product displays on shop doors, windows, counters, beverage coolers, floor displays and outside on telephone poles and sandwich boards. Students also noted product promotions and product display height and proximity to candy counters. After completing the audit reports, the students returned to school for dinner.
Organized by the Campaign for Tobacco-Free Kids, Kick Butts Day is an annual celebration of youth leadership and activism in the fight against tobacco. On Kick Butts Day, youth will encourage their peers to stay tobacco-free and educate their communities about the tobacco industry's marketing practices.