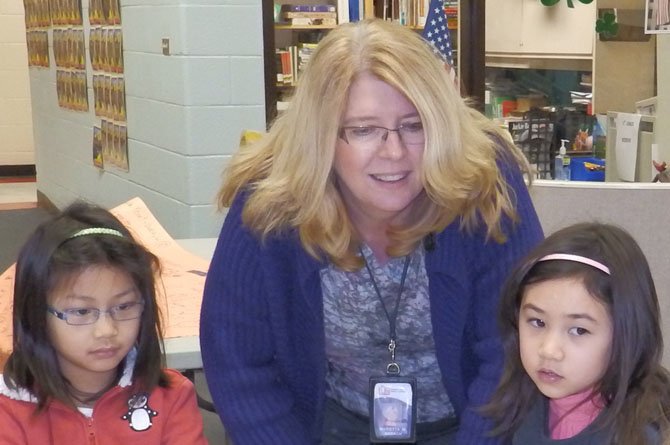 As Fairfax County considers reducing the number of assistant principals, Marietta Arbach -- Assistant Principal at Forestville Elementary -- seems too busy to think about it.
Her day begins at 7:15 with a walkthrough of the school. She then "greets the children with hugs and high fives," according to PTA President Jamie Finch.
During the day her duties vary. They may include coordinating and analyzing the school's battery of standardized tests, such as eCART, CogAT, Naglieri, and WEDA. To prepare for this, she receives training every year. She then uses this knowledge to train teachers on how to administer the tests. After they are given, she then analyzes the results.
Arbach also sits on a committee overseeing Individual Education Program (IEP) needs. This committee determines whether a student with learning difficulties qualifies for either an IEP or a more limited 504 Plan. She also works with Special Education teachers to help ensure that the goals of the committee are being met.
Arbach also schedules weekly team meetings for the teachers. "This allows all of the teachers a chance to collaborate," says Arbach.
Arbach has taught at most elementary school grades, which is reflected in her outlook. "All children have talent. As educators, we have to find that talent and nurture it."
She can sometimes be found in the classroom as a substitute. Arbach also assists with Forestville's many evening functions. "I am somewhat of a Jack-of-all-trades," she says.
Due to funding shortfalls, the school system has plans to eliminate 731 positions. While the budget has not been finalized, this may include cutting some assistant principal positions at elementary schools. Many hope that this will not include Arbach.
"Her smile is present the whole day. At dismissal Mrs. Arbach waves goodbye to the children boarding the buses and heading to their parents' cars with even more hugs, high fives and smiles. She is loved by students, parents, and faculty alike," Finch said.