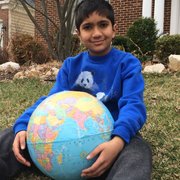 Rohil Bhinge is one, smart boy. A fifth-grader at Mosby Woods Elementary, he'll represent his school, April 4, in Farmville, at the state Geography Bee.
In January, his teacher Mark Holzshu held a geography bee for his students. Participation was optional, and Rohil was one of 10 students in his class who took part. Other fifth-grade classes also held bees, as did fourth- and sixth-grade classes.
The students answered questions such as, "Which state grows more oranges, Florida or Maine?" (Florida) and "What are the two major rivers in Virginia?" (the James and the York).
Ultimately, 20 students total emerged as classroom winners and then competed against each other. Rohil's winning question was: "The Taklimakan Desert, home to the Wieger people and north of the Kunlin Mountains, is in which country?"
Rohil, 10, knew it's in China because "we studied the Silk Road in class and I saw the Taklimakan Desert on a map in China and remembered it." Furthermore, he said, "My mom told me one of the 'Star Wars' movies was filmed in those mountains."
Happy to be the Mosby Woods geography champion, Rohil said, "The sixth-graders always win the school geography bee, but they never made it to the state bee. So being a fifth-grader, I wanted to beat them."
He then took a 70-question, written geography test consisting of multiple-choice questions, plus some analogies. A sample question was "Cowboys are to the American West as gauchos are to (the Pampas)." Another was "James Cook discovered islands in which ocean?" (The Pacific Ocean).
Two weeks ago, Rohil received a letter from the National Geographic Society saying he'd be one of 100 students statewide, in grades four through eight, to compete in the Virginia Geographic Bee. That winner will receive a cash prize and represent the Commonwealth in the national finals in May.
"I was thinking I was going to make [states] because the test seemed pretty easy," said Rohil. "When I got the letter, I was so happy, I was dancing."
He expects to do well at states, too, because he's been studying a great deal for the contest. "I'm using blank, outline maps of countries and putting in the names of their cities, rivers, mountains and lakes," he said. "I remember things better by writing them down; I'm also reading books on geography."
In his spare time, Rohil even plays geography-based video games. In them, he either plays golf or builds rollercoasters all over the world. "Since I was 2, geography just fascinated me," he explained. "I like traveling to other countries, and my goal is to visit 100 countries and every U.S. state. So far, I've gone to 10 countries and 30-something states."
He's in the AAP (Advanced Academic Program) at Mosby Woods and is a Young Mensan, an organization for youth with high IQs. Rohil is also part of Johns Hopkins University's Center for Talented Youth which identifies and develops the talents of the most advanced K-12 learners throughout the world. And he's in Duke University's Talent Identification Program, dedicated to serving academically gifted and talented youth to help them reach their full potential.