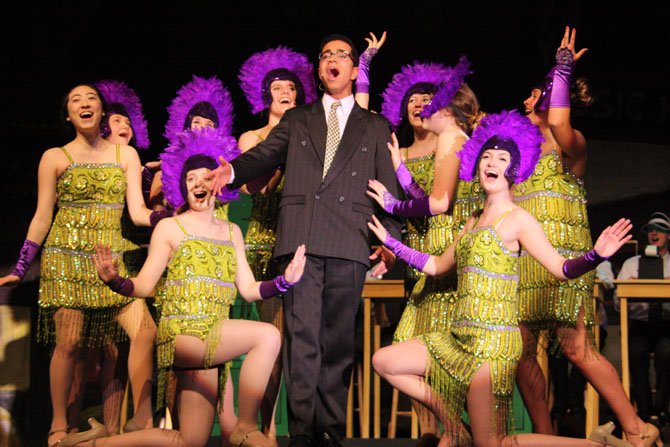 Could you use a good laugh and a burst of spring? South County High School Theatre delivers just that with the musical comedy, "The Producers", May 2-3, and May 9-10, 2014, at Dale Rumberger Performing Arts Center.
"The Producers" is a musical based on the 1967 Mel Brooks' movie of the same title, which starred Zero Mostel and Gene Wilder. It was made into a musical and opened on Broadway in 2001 with Nathan Lane and Matthew Broderick. In the play, Broadway producer Max Bialystock, finds himself in dire straits after a string of failed shows. While his accountant, Leo Bloom, is going over the books, he innocently mentions that Max could make more money on a flop than a success with the right know how. Max is immediately taken with the idea and eventually convinces Leo, who has always dreamed of being a producer, to join in on the scheme. He and Leo set out to find the worst play ever written and the worst director. Max calls on his backers, a large group of wealthy elderly ladies who enjoy Max's love and attention, to raise the money. Everything seems to be going their way until the show opens and it is a huge hit. Now the two men must either find a way to pay back their investors or face time in jail.
"When selecting a musical to produce at South County, I try to balance what is new and fun for the students and what is tried and true in theatre," says show director and South County High School drama teacher, Kathie McCormally. After producing The Music Man last spring, McCormally's decision of The Producers was made to "stretch and challenge" the cast and crew of more than 50 students.
The production includes the lead roles of Max Bialystock (played by sophomore Ethan Schulze), Leo Bloom (junior Cameron Powell), Franz Liebkind (junior Jack Gereski), Roger DeBris (sophomore Kyle McKnight), Carmen Ghia (junior Cole Miles), and Ulla Inga Hansen (junior Cara Bachman).
Full of hilarious characters and situations, The Producers "is a typical Mel Brooks' comedy," says McCormally. "All of his humor is tongue in cheek and must be taken that way. He never intends to offend anyone, yet his work seems to make fun of everyone," she adds.
The show runs for two weekends: May 2 and 3, and May 9 and 10 at 7 p.m. (PG-13; contains adult language and situations.) General admission at the door is $12, and $10 for senior citizens and students. Discounted tickets can be purchased in advance at southcountytheatre.org. The Dale S. Rumberger Performing Arts Center at South County High School is located at 8501 Silverbrook Road, Lorton.