As the old maxim goes, you can't judge a book by its cover. The Animal Welfare League of Alexandria encourages potential adopters to apply that same advice to pets seeking new homes.
"An animal can be a 10- to 20-year commitment, and it is important to select an animal that matches your lifestyle and energy level and to pick your companion based on personality rather than appearance," said Megan Webb, executive director of the League.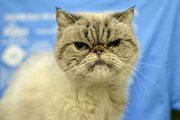 Despite Webb's advice, there's big business in breeding animals for specific physical characteristics. Many of these pets find their way into the Vola Lawson Animal Shelter, where they often arrive in need of medical attention for the illnesses brought on by the physical manifestations of overbreeding.
Goldi, a 12-year-old Scottish fold cat, has endured several medical problems related to her flattened face and narrowed airways. She arrived with a severe respiratory infection and battles chronic eye and nose issues as a result of her breed. After her surrender, she also faced extensive dental treatment, including the extraction of several teeth. Following weeks of recovery, Goldi is now on the road to better health, but she will need an adopter who is willing to care for her chronic medical problems.
Of course, cats aren't the only animals to bear the burden of overbreeding. Dogs, too, aren't immune.
Vince, a French bulldog, was found as a stray and brought into the shelter by a concerned resident. Shelter staff immediately transported him to the VCA Alexandria Animal Hospital, where he was treated for an abscess on his face and respiratory problems. Furthermore, he suffered from leg problems and was unable to stand properly.
After a round of antibiotics and lots of R&R in the League's staff offices, Vince has begun to show off his fun-loving personality. He can now get back to what he loves best — chasing after balls — even though he's still unsteady on his feet at times. However, Vince will likely always suffer from the respiratory problems caused by his genes.
Both Goldi and Vince are "brachycephalic," said Dr. Kaci Angelone, the League's veterinarian. "Brachycephalic breeds … have abnormal nasal passages due to their shortened upper jaws and this results in abnormalities in their respiratory tract, which can lead to breathing problems.
"As a shelter vet, I recommend that people choose their pets from animal shelters instead of going to a pet store or a breeder. Shelters all over the country are full of highly adoptable, loving, friendly, and playful dogs that need homes," Angelone said.
Hope Nelson is a volunteer at the Animal Welfare League of Alexandria.