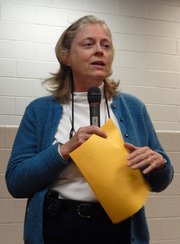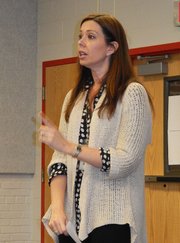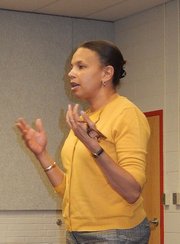 Part Two
If anyone knows about substance abuse, it's Sarah McDade who, admittedly, has been to hell and back with her son. And she shared his story during a recent, substance-abuse forum at Madison High.
Called "Protecting Against the Realities of Substance Abuse," it was put on by Parents Reaching Out To Educate Communities Together (P.R.O.T.E.C.T.), a task force of the Unified Prevention Coalition of Fairfax County.
"My son had his own set of horrors," said McDade. "I kept an eye on him and found out where he was going – and it didn't matter. My son was already a drug addict at 15; he started with alcohol and went to marijuana. He had his first arrest, with two other boys. But the county evaluated him and said he didn't have a substance-abuse problem."
Then when he was 16, he fell in the street. "He had a .27 blood-alcohol content, and .3 and above can kill you," said McDade. "But my son was bullied and wanted to fit in; he thought drinking and using marijuana made him cool. He could be charming and he also had ADHD, and he bamboozled the psychiatrist we got him into prescribing him more drugs. Looking back, he probably peddled half of them."
DURING HIS JUNIOR YEAR at Woodson High, he was on a ski trip in Canada, when he was caught drinking, kicked off the trip and told to leave the country. "That's when I realized he had a major problem," said McDade. "I believed him so many times when I shouldn't have."
By then, she said, her son was using marijuana, alcohol and taking nine ecstasy tablets at a time. He also used Klonopin, Oxycontin, mushrooms, crack cocaine, LSD and Percoset. Said McDade: "He did everything but crystal meth and heroin."
His parents sent him to treatment facilities in Pennsylvania and Washington state, but he relapsed a year later. "He told me he was depressed and the alcohol and marijuana made him more depressed," said his mom. "And he used large quantities."
Next came another arrest, followed by more treatment in Pennsylvania and Florida and, finally, he turned the corner. "He's now been clean and sober four-and-a-half years," said McDade. "When he was using, he was so smart that he'd go online to make sure certain combinations of drugs wouldn't kill him. But he wasn't so smart because he did them in the first place. I'm just grateful my son is still alive."
Also speaking was Paula King, intake officer, Fairfax County Juvenile and Domestic Relations Court. "I'm like a magistrate in the juvenile system," she said. "We determine probable cause and determine how to handle each case."
She advised parents to "talk to your kids about drugs regularly so you won't be doing it for the first time when there's a problem. Get to know the other parents where you live and follow through with whatever consequences you say you're going to give your kids."
King noted that, every Tuesday at 7:30 p.m., at the county's juvenile courthouse, she runs a parent support group for parents whose children are giving them a hard time. It's free and pre-registration isn't necessary.
"In 1996, we had 100 Juvenile Detention Center beds and then we expanded to 150," she said. "Now we only have 29 kids there because we, as a court system, are committed to change. We look at each child individually, see what they need and match them up with services. We're there to look out for your child's best interests. If they refuse treatment, we send them to court and try to get them treatment that way."
TO THE STUDENTS in the audience, King warned them that "juvenile felonies stay on your record forever – so think about that as you're making your choices. Misdemeanors stay on there for five years past the conviction date. So think about which boxes you want to check when you're filling out your college applications; only you can write your story."
The last speaker was Desiree Gordon, clinical supervisor, Falls Church Youth & Family Services, Falls Church/Fairfax Community Services Board. "We're finding that kids have both mental-health and substance-abuse problems," she said. "So both services are now under one roof and both types of providers are trained to deal with both issues."
She said 80 percent of the youth they treat have been drinking and/or using marijuana. In a 2012 Fairfax County youth survey, said Gordon, 35 percent of seniors were imbibing alcohol, and 18.2 percent said they'd done binge drinking – having five or more drinks in a row. Some 19.3 percent of the seniors admitted to using marijuana.
When asked why they used these substances, she said, "The kids reported bullying and cyberbullying." Some said they'd been racially or culturally harassed, some were sexually active and some were depressed.
Gordon warned parents to be alert for any changes in their children's behavior that might indicate they're using drugs and/or alcohol. She said teens may have sudden outbursts of anger, sleep more or less than before, have lots of money, lose interest in things they used to like, use coded language and become secretive. They may also start smelling better than usual to mask their alcohol use, start skipping school, have falling grades and begin cheating and breaking rules.
"Parents, get your kids active and involved in extracurricular activities," said Gordon. "Talk about their interests, provide structure and guidance, and know where they are. And if you think they have a problem, you can bring them in to see us."