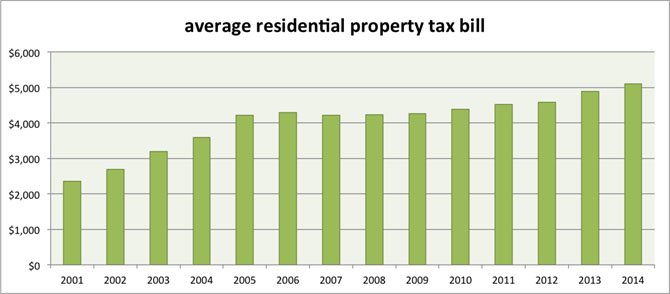 Seniors will be able to keep their tax relief, and Engine 204 will remain at the city's Powhatan Park headquarters. But homeowners will see their tax bills going up once again. That's because members of the Alexandria City Council voted to increase the tax rate last week, adding $2 million to the budget proposal City Manager Rashad Young presented back in February.
"I heard from a couple people today, and they're all very happy that everything has been put back in," said Councilman Paul Smedberg. "That's all well and good, but therein lies the problem. There is going to come a point where we are just not going to be able to do everything."
Since 2001, the average residential property tax bill increased by $2,700. Most of that happened in the go-go years of the real-estate bubble between 2001 and 2005, when average residential property tax bills increased 80 percent. The global economic crisis temporarily slowed that trend, but in recent years elected officials return to asking homeowners for more money. In the last five years, the average residential property tax bill increased 16 percent. This year, the average bill will increase $215.
"I would have liked to have seen more money for the schools and nonprofits and I wish we didn't need to lay off so many city workers and I wish we didn't have to raise taxes," said Councilman Tim Lovain. "I wish we could have done all those things and still somehow miraculously it would have been balanced, but that's not the way it works."
LAST WEEK, City Council members approved a $636.8 million operating budget. That's a 2 percent increase over last year, when elected officials approved a historic tax-rate increase — the largest in living memory. They also voted for a 10-year capital improvement plan to spend $1.46 billion over the next decade to build new schools and expand transit investments. After initially giving the city manager guidance that they did not want to add to the tax rate this year, council members ended up increasing it from $1.038 to $1.043 for every $100 of assessed value.
"The only way we are going to get out of this tailspin is to see a strong economy," said Mayor Bill Euille. "We have done just about all the tricks we can do with the tools in our toolbox."
The city manager's proposal added $5 million to transfer to Alexandria City Public Schools, although School Board members were pushing for an additional $2.4 million on top of that. City Council members ended up splitting the difference, adding $1.2 million to the city manager's proposal, half of what the School Board members were asking for. The $191.8 million transfer represents a 3.3 percent increase over last year. Now members of the School Board need to figure out a way to cut about $1 million out of the budget they already approved.
"I think we will look at departments such as IT and curriculum and professional development and travel," said School Board member Bill Campbell. "We should be looking for things to cut that will reduce the impact on children."
THIS YEAR, several of the council members clashed repeatedly during a series of budget work sessions, sometimes raising their voices and pounding on the table. One heated work session featured an extended clash between Vice Mayor Allison Silberberg and Councilman Smedberg, who suggested the vice mayor was employing rhetoric when she suggested that the city was considering balancing the budget "on the backs of the seniors."
"It was really painful at times," said Councilwoman Del Pepper after voting for the budget last week. "But I think all in all we did just about as good a job as was possible."
But even at the last minute, there were still signs of division. Councilman John Chapman voted against raising fees for some services offered by the Department of Parks and Recreation. Then Silberberg voted against extending the hours of parking meters.
"I just want to reiterate that I feel extending the parking meter hours is not in the best interest of our businesses or our residents or our visitors," she said.
"If you're going to vote against the revenues from this, then in your add/delete you should have proposed not recognizing that revenue," responded Wilson. "You spent the revenue from this and now you are voting against the resolution."
"I believe we also had a six-to-one vote a second ago," Silberberg shot back. "Did you want to correct Mr. Chapman as well?"
"Same argument applies," said Wilson. "Yes."