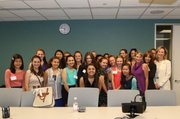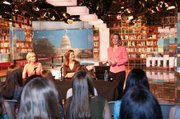 "These young women are rising stars in our community and I'm confident that they will bring their passions and unique perspectives to the program."
-- Del. Barbara Comstock (R-34)
Del. Barbara Comstock (R-34) has officially notified the second class of her Young Women's Leadership Program of their acceptance into this program.
"This year we received even more applications to the Young Women's Leadership Program and I am honored to have each and every one of the 80 young women in the 2014 Class. These young women are rising stars in our community and I'm confident that they will bring their passions and unique perspectives to the program. I hope that the Young Women's Leadership Program will help inspire this next generation of female leaders to bring their intelligence, drive and solutions to their communities, families and careers," Del. Comstock said.
The Young Women's Leadership Program provides young women enrolled in middle school and high school the opportunity to meet and interact with women in leadership positions in government, politics, medicine, business and a variety of professions throughout our community.
Through this program, young women will be able to learn about career opportunities in various fields, develop their leadership skills, identify their strengths and interests and practice effective communication with others to help realize their future educational and career goals.
This program is scheduled to begin this summer with a kick-off event in June and will continue through the fall. Last year, program participants had the opportunity to meet women leaders affiliated with Facebook, NVTC, "Meet The Press," National Review, the Virginia House of Delegates, the Virginia Governor's Mansion, US House of Representatives, CNN, the White House and many other interesting employers, entrepreneurs and professions.
Del. Comstock currently serves as the Chairwoman of the House Science and Technology Committee. She also serves on the House Commerce and Labor and the House Transportation Committees. Del. Comstock represents parts of McLean, Great Falls and Vienna in Fairfax County and parts of eastern Loudoun County.