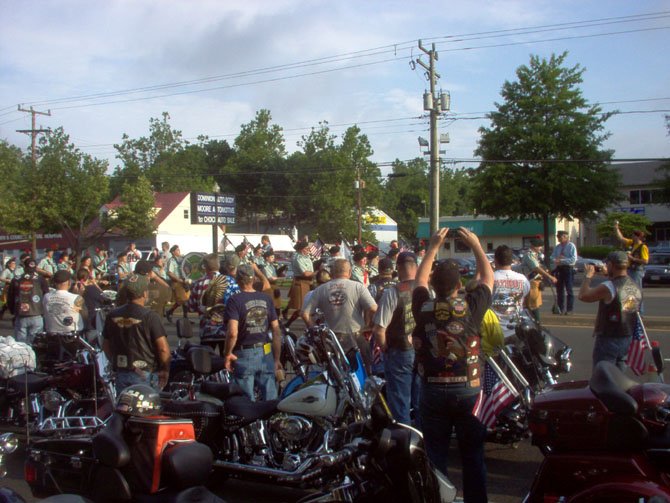 When it first began, the Ride of the Patriots was a few friends getting together to honor Memorial Day and those who served, riding down to Washington, D.C. to join the national Rolling Thunder parade.
Now it's an event with such a wide-ranging draw, up to 4,500 motorcycles from coast to coast not to mention local men and women, that one nearby police force has implemented a seniority system to determine who gets to participate.
"The city really embraced it," said Micki Lyons, who, along with her husband, Ken, have worked on the event for most of its 16 year history. "Fairfax City now, on its website, has us pointed out on there as one of the premiere events."
Ride of the Patriots, for those who don't know, is an annual event anchored at Patriot Harley Davidson on Lee Highway in Fairfax. The centerpiece of the Memorial Day weekend, the four-lane road is turned into a two-lane road, with the other two lanes blocked off from Captain Pell's restaurant to the dealership and filled with motorcycles. Some riders come from California and Washington, taking an entire week to make the trip to Fairfax. Others ship their bikes in from points across the U.S. and, in some cases, around the world, to participate in the parade and commemoration.
THE EVENT began as a way to honor veterans and those who gave their lives, said Ken Lyons, media coordinator for the Fairfax County Harley Owners Group (HOG), which organizes the event each year.
"It started as just a ride" which went from the dealership out onto the Beltway and to the Pentagon, to join up with the 400,000-bike strong Rolling Thunder event, Micki Lyons said. In 2001, the ride was named the Ride of the Patriots and a police escort was added, she recalled. A few years later, it morphed into the orchestrated event expected this year, on Sunday, May 25, complete with the closure of I-66 through Arlington to the Pentagon.
"It's not a biker thing," Ken Lyons said. "This is a bunch of people who happen to ride motorcycles, who decided to get together and ride in honor of people who serve. It's Memorial Day."
The dealership hosts several events over the course of the weekend, including a smaller ride to the Vietnam Veterans Memorial Friday evening, May 23, and an open house at the dealership on Saturday, May 24. Some participants will also take part in Fairfax City's Memorial Day parade on Monday, May 26.
As usual, there will be speakers during the ceremony in the Patriot Harley Davidson parking lot Sunday morning. In addition to local elected officials -- undoubtedly vying to take credit for a beautiful morning if the weather cooperates -- this year's featured guests include Cmdr. Kirk Lippold (Ret.), who served as commander of the USS Cole ship when it was attacked in Yemen by suicide bombers in October 2000, an event now believed to be a precursor to the attack on the World Trade Center and Pentagon on Sept. 11, 2001. Joining him will be SSgt. Erick Millette, U.S. Army (Ret.), himself a survivor of 17 improvised explosive device attacks during two tours of duty in Iraq and now a spokesperson for the Wounded Warrior Project, which acts to help injured servicemen and women get the care they need when returning home after combat.
Join the Ride
The 16th annual Ride of the Patriots will take place this year on Sunday, May 25, at Patriot Harley Davidson starting at 8:05 a.m. Following a short ceremony that features many elected officials and two invited guests, the Northern Virginia Firefighter's Emerald Society Pipe Band will perform "Amazing Grace," followed by Will Dykstra and Jigme Taring playing "Taps," followed by the parade of motorcycles leaving Patriot en route to the Pentagon at 9 a.m. A complete list of activities is available at http://www.rideof...">www.rideofthepatr....
WOUNDED WARRIOR has a group of speakers who attend events and explain the organization's work, Ken Lyons said. "They have a list of speakers who talk about how it helped them," and extending an invitation to SSgt. Millette seemed a good fit for the event.
Cmdr. Lippold knows Bob DeHaven, owner of Patriot Harley Davidson, from a ride they both went on last summer in support of the Wounded Warrior project, and having the two of them together should make for an especially powerful start to the Memorial Day weekend, he said.
Also this year, weather permitting, a pair of ladder trucks from the Fairfax County Fire Department will be parked across Lee Highway from each other, creating a space on which an American flag can fly above the bikers as they leave the dealership parking lot on their way to I-66 and Rolling Thunder.
There was a time when some of the original riders in the Ride of the Patriots were concerned about who would pick up the proverbial torch when they became unable to ride.
"What's happening is, the Iraq vets, the Afghanistan vets, the Gulf War vets have picked it up," Micki Lyons said. "It was needed."
The Lyons will be there, let there be no question. They've missed weddings in previous years to attend the Ride of the Patriots, and this year will be no different.
"It's become a ride of spirit," she said. "It's like an old Main Street parade. You see three and four-year-olds out on the sidewalk waving flags at you. People are out there in the stands. For so many years, during Vietnam, it was so unpopular [to be patriotic and to be in the military]. Now we live in such a mixed culture, there are people who adopted this country and are so proud to be Americans and so proud that they can wave the flag."
More like this story