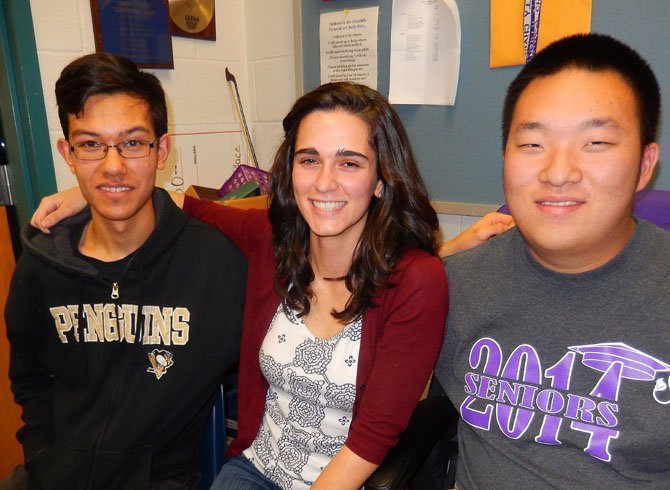 Chantilly — Being designated a "Virginia Honor Band" is the most prestigious title bestowed upon school bands by the Virginia Band & Orchestra Directors Association. And Chantilly High's band has just received this recognition for the 12th time.
"It's a great honor for the program and a testament to how hard the kids work and how well-rounded they are as musicians and performers," said Band Director Doug Maloney. "I'm incredibly proud of them."
To become a Virginia Honor Band, though, Chantilly had to qualify. It did so when its marching band received a superior rating in November at the state Marching Band Assessments and its top concert band, Symphonic Winds, got a superior rating at the state Concert Band Assessments in March.
Three Chantilly musicians also made the All-Virginia Band and Orchestra in February, performing in concert with the other honorees in April at Virginia Tech. Seniors Gabe Luebbe and Ryne Siesky made the orchestra on trombone and trumpet, respectively, and classmate Chris Donatello made the band on trumpet.
"They have a great love of music, and you can tell by how hard they work at it," said Maloney. "They're always playing and help our younger kids play well, too."
Audiences can hear Chantilly's musicians firsthand during their annual Jazz & Pizzazz show, May 28-31, and the Spring Band Concert, June 5. (For more information, see www.chantillyhsband.com). Meanwhile, three of them shared their thoughts about why they love playing their instruments.
Siesky was in the All-State Orchestra and plays trumpet in the band, jazz band and jazz combo. "My dad plays trumpet and said there was a lot I could do with it," he said. "And I've listened to jazz for so long, it's a part of me. At All-State, it was different playing with an entire orchestra. Here, I usually play with woodwinds, percussion and brass."
He was surprised to make All-State because, he said, "I didn't have a great audition. But as second chair, it was nice to be sitting next to the third chair, who won the national trumpet competition, and the first chair, who's a prodigy. At the concert, we played George Gershwin music and I had a solo during 'Summertime,' so it was really fun." After graduation, Siesky plans to attend Shenandoah University or VCU for a degree in music education to someday teach in college and perform on the side.
Senior Hannah Watts plays oboe and is one of the marching band's two drum majors. "My mom played oboe and said I'd love it," said Watts. "She said, since hardly anyone plays it and everyone needs it, I could get a scholarship. It's challenging because your reed can be bad, any number of keys can stick, you have to play with your left pinkie and you need lots of control over your embouchure — your mouth shape when you play it."
Also important, she said, is "the speed of the air you push through the instrument — and you have to play it with confidence. But it's beautiful and unique when you get the hang of it. It's hard to find a good, young, oboe player."
To be a drum major, said Watts, "You need experience marching and must be able to teach and encourage people to march — the season goes from August through October. You also have to be a good leader."
Marching band members put in 40 hours/week besides competitions and practices at home. "It can be physically exhausting and emotionally draining," said Watts. "But it's fun and rewarding because you make something you're so proud of with 134 other people."
Senior Andrew Kim plays clarinet in the band and is the marching band's other drum major. "You have a lot of new people at the beginning of the season," he said. "And at the end, it's rewarding to see how much they've learned and how well they can do it."
So how did he choose clarinet? "I come from a family of chorus people, but can't sing like they do, so I joined band," he said. "They didn't think I'd stick with it, so they said to pick the cheapest instrument I could rent. But I ended up liking the clarinet. Normally, there are a large number of clarinets in band; but it's dwindled over time and given us a chance to step up and play the music we know we're capable of. And clarinets have a mellow, smooth sound."
Watts became a drum major as a junior and Kim became one last fall. "I wanted to have a greater influence over the band program," he said. "I had some good ideas I wanted to share."
"We wanted to set an example of how leaders could get along and treat each other," added Watts. "You respect the upperclassmen and those who've worked hard."
"Marching band is the most multitasking thing you can do," said Kim. "It combines dance, military precision, music and performing arts."
Siesky said drum majors inspire the musicians to do better, and Kim said they also inspire the audience. Said Watts: "We're just as much performers as Symphonic Winds ensemble or any other group that sits onstage."
"Heart of fire, mind of ice," said Kim. "It's not just conducting; I more embrace the teaching, encouraging part of it — giving moral support. You have [the band members] believe in what they're doing. If their hearts aren't 100 percent into it, you know by the way they hold their bodies and respond."
After graduation, Watts is considering attending the University of Delaware. "They have one of the three best marching bands on the East Coast," she said. "I'll major in medicine and may play in an ensemble on the side." Kim will attend GMU, majoring in criminology. He wants to be a Fairfax County police officer and is currently in the police Explorers program.
So what did being part of Chantilly's band teach them? "Every day's an audition; practice hard and always finish what you start," said Siesky. "Someone's always seeing how we represent the Chantilly band program."
"It also applies to the real world," said Watts. "You have to prove yourself every day. Former Band Director Drew Ross — now a graduate assistant at JMU — told us to just pick something and work hard at it."
"Never settle for less," said Kim. "Strive for perfection and get better each day." Added Siesky: "Do your best and raise the bar each time."