I'm not a biological mother, an adoptive mother, a stepmother or a foster mother. But I have experienced some of the joys and heartbreaks of motherhood.
More than 12 years ago, I began as a homework tutor at a group home for foster kids. It was there that I met 7-year-old Dontae.
He would tell you that he tricked me into spending more time with him by pretending that he didn't know his letters. I would tell you that I was drawn to him in ways that I think mothers are drawn to their children. He needed someone. Maybe he needed me.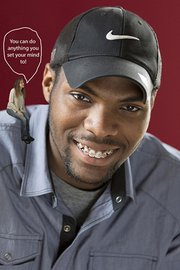 Within months, I began training to become Dontae's Court Appointed Special Advocate or CASA. A CASA is a volunteer who becomes the advocate for a foster child, representing a vulnerable child against the competing priorities of rotating social workers, lawyers and caregivers.
Dontae had 23 placements in just under three years during his time in foster care. With a lack of stability and security, it was no wonder that his behavior was out of control. His anger was often frightening and sometimes put us both in danger
I quickly learned that he needed consistency and boundaries, but most of all, he needed unconditional, unwavering support.
My friends' kids were much younger than Dontae and social services and court appointed therapists didn't offer any meaningful insights or strategies. I operated on instinct, which sometimes served me well, but often did not.
I told Dontae over and over again what my parents had told me from the time I can remember: "You can do anything you set your mind to." While I might have gotten that persistent and caring motivational support right, there was so much I was getting wrong.
Fortunately, in my second year with Dontae. I met a talented therapist with a young child. In exchange for photographs of her daughter, she promised to meet with me weekly, the day after I saw Dontae.
Each week, I reported on our most recent visit. She would carefully explain where and why my instincts had betrayed me and sent me back out to do better the next time. Her insights were invaluable over the years.
Dontae returned to his mother's home after three years in foster care and she supported my continuing to be part of their lives. I helped to navigate the frustratingly complex educational system and was there to encourage Dontae.
But at 14, Dontae was not really much different than he had been when I met him at 7. He was often filled with rage. The slightest thing could set him off. And one day after battering me with harsh and menacing words, he attempted to jump out of my car as I drove down the highway.
I remember my parents threatening to leave us, four kids at the side of the road, during a particularly bad road trip. I knew just how they felt.
But I didn't leave Dontae at the side of the road. And three years later, he started to change.
In the past five years I have gotten to experience some of the joys of parenthood; first job, raises, good grades, school dances, wonderful trips and meals enhanced by interesting conversations.
I have also struggled with the frustrating dilemma of trying to keep a kid on track, alternating between nagging, bribing, screaming, negotiating and supporting.
Dontae stayed in school well beyond what should have been his graduation date, cramming 12 years of education into just two. And next month he will graduate.
If you had asked me if I thought this was possible 12 years ago, I would have quietly shaken my head. But come June, I will be loudly cheering Dontae on at his high school graduation and embarrassing him by taking too many pictures.
No, I'm not a parent. I just act like one.
For more information on Fairfax CASA, visit http://www.fairfaxcasa.org/
Joan Brady is a professional photographer; mentor and advocate for current and former foster children; volunteer with paws4People, Fairfax Families4Kids, and others; and a resident of Great Falls. Reach her at joan@joanbradyphotography.com