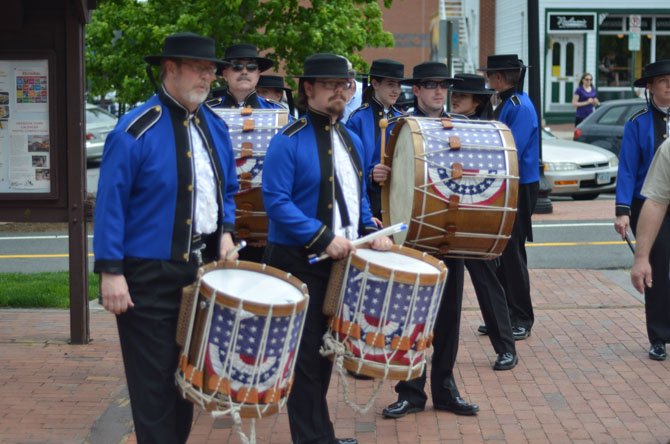 Members of Herndon High School (HHS) Band participated in the American Originals Fife and Drum Corps performance in a kickoff celebration for a fundraiser sponsored by local ceramics business Potter's Fire on May 10. The Potter's Fire Throwdown is a contest to challenge other businesses in Herndon to decorate their storefronts for the patriotic holidays from May 10 to the 4th of July. The business with the best decorations will win a trophy designed at Potter's Fire. Donations for the event will be divided between The Fisher House Foundation and The Pride of Herndon Marching Band. "Every dime will be going back to charity," said Mike Faul, owner of Potter's Fire.
TWO HERNDON HIGH STUDENTS participating in the May 10 musical performance were freshmen Rebecca Yu and Shennan O'Day. "It is good to know local businesses are willing to contribute to the community," said O'Day. "We are a group of all ages and we enjoy entertaining audiences of all types," said Jared Conway, who has been playing with the American Originals Fife and Drum Corps for seven years.
"We are pleased Potter's Fire has chosen to support the HHS Band program through this event," said Kathleen Jacoby, HHS Band Director. Several recent HHS Band events have included marching in the 2013 Pearl Harbor Memorial Parade and greeting Honor Flight attendees at Dulles International Airport. The entry deadline to participate in the contest has been extended to May 25. "It is a great idea, it will bring the community together," said David Meyers, owner of the Green Lizard Cycling located in downtown Herndon.
All town businesses located north/east of the intersection of Center and Elden streets and south/west of Monroe Street have been encouraged to fill out an application to participate in the contest. Judging will be done by a panel of judges from the Council for the Arts of Herndon. Decorations must be up by Memorial Day 2014, and must remain in place until July 6. The grand champion of the event will be awarded The Patriot's Cup. "It will be handmade right here in Herndon, and inlaid with fine gold, it will be something a business can hold for one year," said Faul. "We do not intend to let go of this trophy lightly."
The evening of April 22, Faul gave a presentation at a Town of Herndon Council Public Session explaining the purposes of the Potter's Fire Throwdown. "This is not just about a contest and a trophy but an opportunity to celebrate those individuals who have given and laid down their lives for us in both large ways, both day in and day out," said Faul. "It is an invitation to participate in community art." The theme chosen for the event as declared by Herndon Mayor Lisa Merkel is Celebrating Hometown Heroes.
MAYOR MERKEL and town council members congratulated Potter's Fire on the success of their business and encouraged all downtown businesses to participate in the Potter's Fire Throwdown. "When Mike Faul approached me with the idea for the Potter's Fire Throwdown, I was thrilled," said Merkel. "It is our hope that the contest will become a tradition in our downtown, something people look forward to every year." The fundraising event will culminate in an awards ceremony on Sunday, July 6, where 'The Patriot's Cup and other awards will be presented to the winners.
For more information on the Potter's Fire, visit pottersfire.com.