Honored for his police work that helped solve cases in Fairfax County and Washington, D.C., PFC Rick Call is the Sully District Station's Citizens Advisory Committee's (CAC) Officer of the Month for April. He was presented his award by Lt. Bob Blakely, assistant station commander.
A local high-school teacher contacted him about a female student who thought she'd been drugged and sexually assaulted. Call met with the student who told him she and a friend were picked up by a man in Centreville and taken to an indoor swimming pool in the District.
"The young lady explained they began to consume alcohol and eventually she passed out," said Blakely. "When she regained consciousness, she was back in Centreville with no idea what time or day it was or how she got there. She said she'd never lost consciousness after drinking in the past. [Next], the suspect texted her naked photos of her in an unconscious state and asked if they could get together again."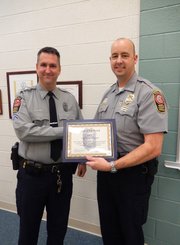 Based on the suspect's cell-phone number, plus other details, Call was able to identify him via the software database LINX, plus photos on Instagram. He also discovered that the suspect had prior charges in Charles County, Md., that mirrored what had happened to the student here. Call then consulted with Fairfax County Criminal Investigations Bureau (CIB) detectives who began working on the case.
After awhile, he was home watching the local news on TV when he saw a story about a rape that was reported at an indoor pool in D.C. The circumstances were similar to the student's sexual assault.
He immediately contacted CIB Det. Craig Paul, who was able to confirm with a D.C. detective that the suspect in the news story was, in fact, the same suspect the student had identified. Call then helped set up a meeting between the student and the D.C. detective, and the student eventually testified against the suspect before a D.C. grand jury.
In honoring Call as the Officer of the Month, Blakely noted his "dedication and devotion to duty. "Had it not been for PFC Call's experience, determination and fortune that he saw the news report involving the same suspect, it's quite possible the sexual predator in these disturbing crimes would still be free and victimizing others," said Blakely. "PFC Call's efforts and professionalism are more than worthy of recognition by the Sully CAC."