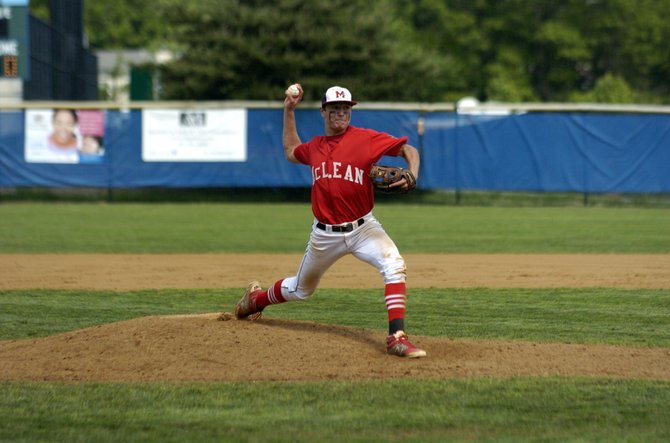 Joey Sullivan's previous start lasted just 1 1/3 innings, with the future Virginia Tech pitcher allowing seven runs --- four earned --- on May 9 against Madison.
Eight days later, the McLean right-hander toed the rubber with the Highlanders' season on the line. Facing South Lakes in the Conference 6 tournament quarterfinals, Sullivan delivered a stellar performance.
Sullivan tossed a three-hit shutout and left fielder Grady Paine went 4-for-4 with five RBIs as No. 7 McLean defeated No. 2 South Lakes 5-0 Saturday afternoon at South Lakes High School. The Highlanders secured a berth in the regional tournament and will travel to face No. 3 Langley in the conference semifinals at 6:30 p.m. on Tuesday.
Sullivan struggled with his fastball command during McLean's 11-3 loss to Madison, part of a second-half collapse for the Highlanders that led to the team finishing the regular season with a 10-9 record after an 8-2 start. Sullivan was dominant on Saturday, however, allowing just three singles while striking out seven in seven shutout innings. He threw a first-pitch strike to 19 of the 25 batters he faced and did not walk a batter. He threw 63 of 87 pitches for strikes.
"Joey bounced back very well," McLean head coach John Dowling said. "South Lakes, they are a feisty team this year --- they earned that 2 seed. [Sullivan] went out and commanded his fastball and that's really the key for him. When he keeps that down and he can move it in and out, all the sudden now he's got a decent curveball and he becomes real tough."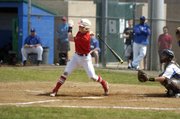 Sullivan said he straightened out a mechanical flaw that hindered his performance against Madison. The Highlanders also appeared to have straightened out whatever was hindering their performance during the second half of the season. After defeating Fairfax 11-1 during the regular-season finale on May 14, McLean won a pair of elimination games on back-to-back days, including a 4-1 victory against No. 8 Yorktown on Friday evening in the conference tournament play-in game.
"A couple practices ago, I got everybody around and I was like, for some of the seniors here, this is the last time they're going to be able to play baseball," said Sullivan, who signed with the Hokies. "We don't have to do it for our coaches, we have to do it for each other, and the most important thing is we have to start having fun again, because none of us were having fun."
While Sullivan was dominant on the mound, Paine took care of the offense. The senior cleanup hitter finished 4-for-4 and drove in all five McLean runs.
In the top first, Paine's two-out single drove in Sullivan, who led off the game with a single off the fence in right field. With the bases loaded and one out in the fifth, Paine doubled to deep center, driving in three and giving McLean a 4-0 advantage. With two outs in the seventh, Paine ripped a solo home run over the fence in right.
"I was feeling great," Paine said. "Joey was dealing and he was letting me feel loose at the plate. It's great. You don't have to think about anything else. You can just go out there and do your job."
Paine also singled to load the bases in the third, but McLean failed to score.
"He's a very hard worker and he's a very mature athlete," Dowling said. "He doesn't try to do too much. … Teams are walking [No. 3 hitter] Caleb [Beatty and Paine] has started to make them pay for that and that's not the first time this year he's done that."
Sullivan went 2-for-4 at the plate. Sophomore shortstop Conor Grammes finished 1-for-3 with a double.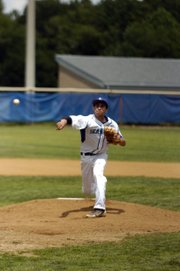 South Lakes pitcher Matt Wojciechowski suffered the loss, allowing five runs --- four earned --- and seven hits in seven innings. He walked three, hit one batter and struck out seven. The junior right-hander produced the South Lakes highlight of the afternoon when he struck out the side in nine pitches, the minimum needed to do so, during the top of the fourth.
South Lakes sophomore shortstop Marty Gryski went 2-for-3 with a pair of singles. Senior left fielder JoJo Lear led off the bottom of the first with a single.
South Lakes lost seven of its first eight games this season, but started to turn things around with a pair of wins during a spring break trip to Myrtle Beach, S.C. The Seahawks closed the regular season by winning eight of 10 and posted a 5-2 mark against Conference 6 opponents, earning them the No. 2 seed in the tournament. Saturday's loss dropped South Lakes' final record to 9-10.
"It's been a huge turnaround, as you can tell," Wojciechowski said. "I'm a junior. The past three years I've been here, we've just been getting stepped on every game. Nobody takes us seriously. Then, [we] come back the second half from spring break and we started playing like we know we can."
While South Lakes' season is over, McLean is hoping to continue with a turnaround of its own.
"I think that we're starting to realize our talent didn't go away as soon as we lost a few games and that we've got a group of kids that, as a team, can be very successful," Dowling said. "I think for a while there we might have gotten a little away from that, but the hot start didn't happen on accident. Getting hot lately didn't happen on accident. We just kind of needed to figure things out."